Top Trainer Tim Sales: You Can't Recruit Somebody Twice
May 8, 2020
By Team Business For Home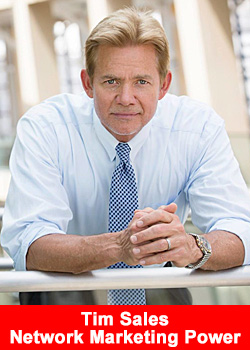 Unlike a traditional company where you can sell to people multiple times because they're just your customer, you can't recruit somebody twice."
This is an objection from an anti-MLM YouTuber named Kylie who has gained popularity by disparaging and embarrassing network marketers.  And her statement is utterly false.
First, I have no idea where she got such bad information.  When somebody has never done Network Marketing, but masquerades as an expert, you can see how disconnected they are. She claims to do a lot of research, but I can tell who exactly she's read, and who she's copying.  And her information is false.
Here's the truth:
Network marketing is exactly like a traditional company in the sense that you CAN have people who are "just customers" (i.e. not reps) and you CAN sell to them multiple times.
She doesn't understand reps, because a rep is also a customer.
Reps buy products.
Reps can buy additional products (i.e. repeat sales)
Reps get regular customers
Reps can sell those customers other products (i.e. repeat sales)
Reps can recruit new reps who do 1-5
Can you see the advantage this model offers you over a "customer only" approach?  Which model would you want to be in if you were in it to earn money and get a product that you believe in out to the market?
So if you want to know how to get customers in network marketing, let me explain how product volume moves in an MLM company.  There are 3 different "gears" that move sales volume.
Retail – you get a customer
Wholesale – if your customer wants to save money and get the products at wholesale, they can become a preferred customer
Exploratory – if someone is telling you about the business, and you want to try some product, with the purpose of exploring the business
Your sales volume can grow by turning any and all of these gears.  If your goal is 10,000 customers, I've got a great example in the video comparing Wal-Mart and Amazon to a Network Marketing company.
Bottom line – if you're looking for network marketing advice, talk to someone who has done the business for 30 years, not a YouTuber who's never done the business and thinks that "complaining is cathartic" (her line, not mine).
This is Network Marketing Power.
About Tim Sales
Tim Sales is a 30-year veteran in Network Marketing. He's a million-dollar earner in multiple companies, he's been interviewed by Larry King and Grant Cardone, and now he's sharing his knowledge on how to build a successful network marketing business of your own, with real-world examples from his 30-year experience in the industry.
He's breaking down the industry into little bite-sized pieces, so you have exactly what it takes to really have success in network marketing. For more information please visit www.networkmarketingpower.com