Apinya Jinsiriwanich From Thailand Achieves President Rank At ByDzyne
June 18, 2020
By Team Business For Home
ByDzyne Produces First Woman President from Thailand, Apinya Jinsiriwanich
According to a ByDzyne Press Release:
The worldwide success of ByDzyne is once again focused on a significant accomplishment in Thailand.  With much excitement and pride, ByDzyne is thrilled to announce that Apinya Jinsiriwanich has achieved the premium level of President.
In so doing, Apinya has created ByDzyne history as the first woman President who has achieved this prestigious rank in her own capacity.  In the span of only two weeks, Apinya created a tremendous sales result of more than USD$450,000.  But this is not all.  Within her team, she also helped to create 1 other President, six 2 Star Diamonds, and 2 Diamonds.
And, this 2-week cycle of unbelievable accomplishments was right in the middle of the world's COVID-19 health crisis.  It is especially noteworthy that Apinya knew personally only about 5% of the people on her team.
The other 95% were "strangers" that she met though online channels while working exclusively from home because the public health requirements of staying home.  With great dedication, commitment, and nothing but a "can do" attitude, Apinya has proven that there are no limitations in making measurable results happen.
Apinya has a significant history that has brought her to this moment of great success.  She had seen the "ups and downs" of network marketing because her beloved mother was a network marketer.  In fact, she used to tell her mom that she would never do any network marketing business after seeing the experiences of her mom.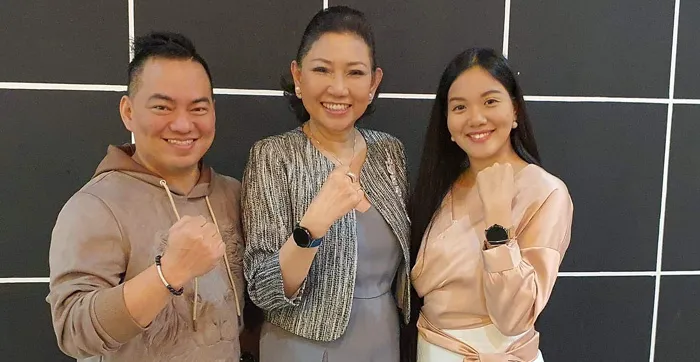 Her mom traveled a lot and worked very hard to make appointments with people only to have them "no show" for appointments to talk about products, the business plan, etc.  But no matter the various business opportunities that Apinya became involved in, they never seemed to help her meet her goals.  And, even sometimes, she found herself involved with unstable businesses and sketchy people.
About at this point in time, Apinya began to feel that life was a failure and there was no real destination within sight. Then something unforeseen and unexpected happened that caused Apinya to receive new inspiration and rekindled hope that legitimate success was also possible for her.  She met her new mentor (Amnart Limcharoen, also known as Coach Tum) and ByDzyne.
Even though Apinya had been opposed to network marketing for many years, she sensed something very different about this new opportunity.  She was very impressed with the vast diversity of the ByDzyne business platform, the power of choice, and the obvious potential of the Company's worldwide marketing platform.  She was also inspired by the vision of the ByDzyne executives.
All of this convinced her to use her last available credit limit to invest in her brand new ByDzyne business.
"This amazing mentor, Amnart Limcharoen, gradually saved me from my feelings of disappointment and failure. I knew he believed in me and this gave me courage and strength.  He also taught me the great value of focusing on the future rather than being handcuffed to the past.  I felt completely prepared to not allow simple obstacles to get in my way,"  were the authentic words of Apinya.
Apinya is also a tremendous example of team work and the unified spirit of supporting one another at all times.  Her own words give great power to her personal philosophy, "If the team wins, we all win. And, if we as individuals win, so does the team win.  When we all support each other's desires to win, great momentum is the natural result of this collective attitude."
Most importantly, Apinya desires to give a strong message to any person who is searching for success and desires to change their lives.  Her own words are the very best way to illustrate her heart-felt desires and feelings.  "My ByDzyne business has allowed me to grow faster than ever before.  This growth does not happen accidentally; you MUST have a personal desire to grow.
Decide to grow and then make the necessary effort.  All you need to do to get started is to make a decision.  Decide to dedicate your life to something. Decide to take actions despite fear.  Dare to take some risks just like jumping into the water will allow you to learn how to swim." This is the exact attitude and wonderful example of Apinya Jinsiriwanich.  ByDzyne welcomes your congratulations for Apinya and her outstanding example of excellence.
About ByDzyne
ByDzyne's multi-faceted approach disrupts the traditional industry model by first understanding that one size DOES NOT fit all. You were born into a particular culture, with unique tastes, interests, and desires. Therefore, ByDzyne™ was created with a purpose to celebrate your uniqueness and empower your extraordinary potential. The company's exceptional "culture-crafted" products meet distinct
needs in key consumer markets, and their lucrative business opportunity was formulated to fuel your ideal lifestyle, as YOU see fit.
This customizable approach is a driving force that propels everything ByDzyne does and will do in the future. They proved this by already establishing 4 distinct verticals: Technology, Training, Travel and Transform. And 8 industries are represented in these diverse categories of products and services: Forex, Online Marketing, Internet of Things (iOT), Lifestyle, CBD, Skincare, Weight Management, and Wellness. At ByDzyne's core, they believe that this "Power of Choice" offers not just opportunity, but security.
Ultimately, the perfect home-based business would have a catalog full of ever-evolving products and services, that would be relevant to all people, available in all markets, and at a price point that everybody can afford.
ByDzyne's mission is to be the most influential economic and cultural force in the industry. Thus, the goal is to continue to expand their global footprint into multiple verticals to
maximize your income opportunities, capitalize on trends, and gain market share in upcoming industries as they advance. Their experienced executive team strives to stand apart from the pack, and build a legacy you can be proud of; one you can truly call home. We are ByDzyne™. Where limitations don't exist. For more information please visit www.bydzyne.com.
Recommended Distributors ByDzyne