ByDzyne's 600% Revenue Growth Shatters All Expectations
June 3, 2020
By Team Business For Home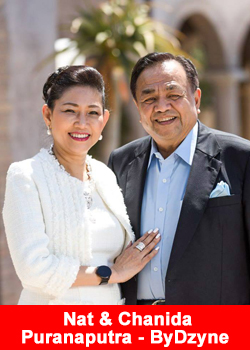 According to a ByDzyne press relase:
ByDzyne has been shattering all expectations since inception, with a staggering 600% revenue growth within just the last 2 weeks. With relentless tenacity, ByDzyne transitioned from a captivating concept into the formation of a brand new, unique, innovative, and wildly creative company in the people-empowering profession of network marketing.
This relentless tenacity has been a central characteristic of every dramatic success story that has been created in the past one year. Only a few weeks ago on May 16, ByDzyne celebrated its one year anniversary with a star-studded online event, attracting over 10,000 people from around the world during the live event.
Literally, every corner of the planet. The global footprint that has been established by the Company within such a short period of time is nothing short of remarkable. And, the power of ByDzyne's multi-vertical business model is definitely being manifested in some preliminary success measurements.
In only one year, the Company has already established 4 distinct verticals: Technology, Training, Travel and Transform. Eight industries are represented in these diverse categories of products and services: Online Marketing, Internet of Things (iOT), Forex, Lifestyle, CBD, Skincare, Weight loss, and Wellness. The Company's business activities are now enriching people's lives in a full international spectrum of 77 countries. All in only one year. And, according to ByDzyne's vision, this is only the very beginning.
Nat Puranaputra, ByDzyne's Chairman, summarized the progress of the company in these words,
"Our first 12 months has been a time of great preparation. We captured in vision exactly what we wanted to accomplish with the establishment of a brand new company.

We knew that our business model needed to look completely fresh and unlike anything we had ever seen in the MLM space. In these early stages, we are confident that we have hit a home run and have established a very strong foundation and platform for the long-term legacy growth of the company."
Chanida Puranaputra, the Company's Chairwoman, added,
"With the ByDzyne foundation now in place, we are 100% prepared for the full global launch of our BDNation Movement. In Year 1, it was vital that we place every cornerstone in the right position in our foundation to support the rapid and significant growth that we knew would come.

It is now the beginning of Year 2, and we are fully ready for an explosive launch with the same power I saw on television a couple of days ago with the launch of the SpaceX rocket. In a business sense, all the fire and smoke that lifted that rocket off from the launch pad are doing the same thing with ByDzyne right now.
About ByDzyne™
ByDzyne's multi-faceted approach disrupts the traditional industry model by first understanding that one size DOESN'T fit all.
You were born into a particular culture, with unique tastes, interests, and desires. ByDzyne™ was created with a mission to celebrate your uniqueness and empower your extraordinary potential. Our exceptional "culture-crafted" products meet distinct needs in key consumer markets, and our lucrative business opportunity was formulated to fuel your ideal lifestyle, as YOU see fit.
Our visionary leadership wanted to create an unparalleled company with your individual needs in mind, whether as a consumer or Brand Ambassador. This customizable approach is a driving force that propels everything we do and will do in the future. We are launching into not one but FIVE of the fastest growing multi-trillion dollar industries, creating one of the most explosive opportunities in the market, starting with technology, beauty, wellness, travel and now trade.
Our mission is to continue to expand our global footprint into multiple verticals to maximize your income opportunities, capitalize on trends, and gain market share in upcoming industries as they advance.
Through ever-evolving innovation, and with the utmost integrity, our experienced executive team strives to stand apart from the pack, and build a legacy you can be proud of; one you can truly call home. We are ByDzyne™. Where limitations don't exist. For more information, please visit www.bydzyne.com.