Cloud 9 Life Launches Healthy Instant Coffee Infused With Turmeric
June 3, 2020
By Team Business For Home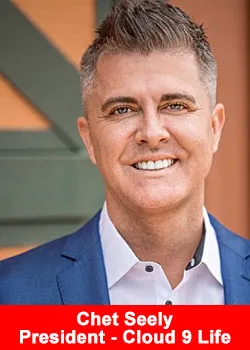 Cloud 9 Life recently launched Higher Ground, a 100% Colombian Arabica coffee with golden rich turmeric designed to help optimize gut health, thrill taste buds, and support a strong immune system.
The product was announced Live on Facebook on June 1 which reached thousands of independent Cloud 9 Life Executives. Invited to this virtual product launch party were over 2 dozen Executives who qualified through a sales incentive to join the corporate team to make the announcement.
"Fun is one of Cloud 9 Life's 5 Values and being able to announce our first new product with so many of our Executives through a live virtual event brought excitement and buzz, not only leading up to the event but you could feel the energy as we went live and watched the posts and interactions online,"
says President and Co-founder Chet Seely.
Higher Ground Coffee is an instant healthy hit and fits perfectly within the company's brand story. One thing that hasn't changed as people around the world start heading back to the new normal is our fast-paced "Always-on" society being the biggest enemy to our health. With tight schedules, lack of sleep, and never-ending demands, it can skyrocket your inflammation, weaken your immune system and leave you slow, sluggish and even sick.
For about a buck a cup, this blended supertonic is the perfect way to fortify your immune health, fight off inflammation, lift your mood and prepare for society's nonstop pace – all in your morning cup of coffee.
"Higher Ground coffee is the perfect addition to our line of already incredible products. Coffee is a daily drink for so many and this Colombian coffee with turmeric blend is so delicious while providing so many health benefits. It's the perfect "pick me up" any time of day,"
says Executive Distributor Jody Zavala. "It's also the perfect attraction getter in helping me introduce new customers into my business".
Cloud 9 Life has an International expansion plan laid out over the next 5 years starting with Latin America and believes that Higher Ground Coffee is going to have significant demand and make an immediate impact in each new market entered.
"The global size of the coffee market is a natural attraction for a company like Cloud 9 Life. Americans consume over 400 million cups of coffee per day making us the leading consumer of coffee in the world. 

Higher ground fits our never compromise promise of providing great tasting and highly efficacious nutritional products at very affordable prices.  I absolutely love the product and at just a buck a cup we believe Higher Ground will become in instant hit"
says CEO and Co-founder A.K. Khalil. 
About Cloud 9 Life
Established in January 2020, Cloud 9 Life is a vehicle to help people take control of their health and their finances. Committed to providing truly exceptional products, customer service, and tools to support customer success Cloud 9 Life has made being a business owner more accessible, more attainable, and more fun than ever before. Cloud 9 Life is a privately owned company with headquarters in Naples, FL. For more information, visit Cloud9Life.com