Garyo Yu Achieves Executive Chairman Rank At Beyond
June 5, 2020
By Team Business For Home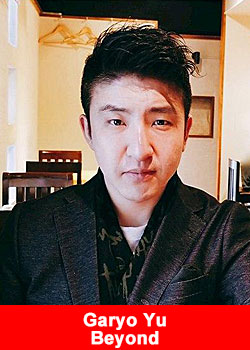 Garyo Yu was born in South Korea and now resides in Japan. He has been active in the network marketing industry for the last seven years.
Garyo was initially attracted to the network marketing industry for the ability to build a residual income surrounded by ambitious, like-minded people.
Garyo joined Beyond because of the incredible corporate team, specifically citing "the Founders' unprecedented vision, President's long management experience, and Co-Founders' 12-year robust relationship with each other." Now, he sees Beyond becoming an unprecedented "unicorn" company in the next five years with its game-changing platform.
Today, he has built a strong network of leaders on his team in Japan and elsewhere. Garyo believes that a strong team requires a decentralized leadership system built on respect and mutual understanding. "In Japan, it's a completely decentralized leadership system.

Once we get a new promotion or service, we all discuss it together and make a strategy for how to promote it to the local community.
With incredible leaders in his team such as Teppei Ueyama, Ryoma Nishizawa, Yusuke Hioki, Hiro, and other successful Beyond members, his vision has become a reality. With so many great and humble leaders, this team operates much more like a family.
Garyo has these four tips for young entrepreneurs looking for success in network marketing:
Be yourself, have a unique mindset, and love your imperfections everyday.
Surround yourself with people who never give up and challenge yourself every moment.
Be flexible, and be a fast responder to your team via text messages and phone calls.
Have respect for every human being. Try to see the good in people.
Garyo believes that Beyond "has one of the most disruptive systems in this industry and has exclusive partnerships with legitimate companies which offer game-changing services." What is Garyo most excited about with Beyond?
"Right now, it's definitely the Infinity Line system – I've never seen anything like it in the world." The Infinity Line system is part of the Infinite Success mobile app – which is renowned for its "simple duplication work." 
The Infinity Line system comes complete with innovative product offerings in a variety of unique verticals. "Members are free to choose which Infinity Line offerings they want to use to expand their own markets. Some markets and teams will be focused on digital wealth products, and some teams will be focused on health and wellness products."
Whichever vertical someone chooses, Garyo believes that "after COVID-19, people are looking for all-new trends, services, and ways of doing business. Beyond has a super flexible system to connect customers to cutting-edge products, services, and partner companies."
Garyo claims that he participates in the network marketing industry to challenge himself – and he is rising to that challenge as he has already achieved the rank of Executive Chairman (which entails 2,000,000 in sales volume) during the pre-launch phase of Beyond.
About Beyond
Beyond is a multi-category experience designed to give you a wide range of products and opportunities across our two main focuses – health and wealth – to create your perfect lifestyle.
Initially offering two unique categories and independent business ecosystems (tied together with a seamless rewards plan), Beyond is best understood as the sum of its parts: Beyond Wealth and Well Beyond.
With a focus on delivering truly remarkable health and wellness products, the Well Beyond system is unprecedented, reputable, and practical. Well Beyond provides a simple, uplifting, and focused way to live a healthier life with people who take pride in seeing the results and joy of others. The Well Beyond path leads to wellbeing and happiness – starting with its Best Day Ever sample program and ending with its Fearless Movement which gives people all the products they need to live a healthy, fulfilling lifestyle.
Bridging the gap between emerging digital technology products and accessibility, Beyond Wealth provides a variety of innovative wealth-building products crafted for people seeking to enhance their lifestyles. Our revolutionary digital products provide cutting-edge methods of generating residual income. With products ranging from our multi-currency wallets, to programs with device leasebacks, to discount travel portals, there is something for every entrepreneur to explore.
With these two categories, and a revolutionary mobile app designed to deliver many more opportunities in the future, the Beyond brand is one of creation – creating opportunities for all types of consumers and business-builders to seek out what works for them and build within the most effective ecosystems. Follow Beyond on Youtube: Beyond Official Youtube Channel.