Jasmin Ibrahimovic Rain International Powerhouse Pearl Elite
June 17, 2020
By Team Business For Home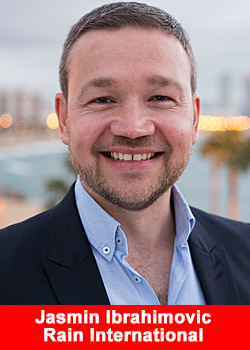 According to a Rain International press release:
It all began back in 2013, when Jasmin Ibrahimovic was offered a job at Rain International. He graciously rejected this position a handful of times, but there was something intriguing about the company. Then, in 2015, when he was offered the job again, he decided it was time to accept a role as Regional Manager.
From there, he was introduced to Rain's compensation plan, their executive team, and most importantly, their products. In almost instantaneous fashion, he started seeing a positive difference in his own body.
After about a year and half of working in Rain's corporate structure, and learning and watching the success of other Distributors at Rain, Jasmin desired that same freedom. He ended up resining from his position and quickly signed up to be a Distributor.
When speaking of what really pushed him to make this change, Jasmin said:
"One thing that does it for me is seeing other people succeed. I realized some time ago now that if you want to make an impact, you have to utilize the creativity, drive, and strength of others, and as long as you help others get what they want, you will reach your goals. \\

Some of my goals range from hitting the top ranks of the company to start with to helping many people break the personal limitations to growth and prosperity. Of course, it is given that I have to keep breaking these limitations for myself."
One goal that he's been able to achieve is the Rank of Pearl Elite. He did this through offering freedom, support, and mentorship to each and every person who came into his team.
Byron Belka, CEO and Founder of Rain International said of Jasmin:
"It's interesting, but not unheard of, to have a corporate team member turn into a distributor (typically, it's the other way around). But, with Jasmin, we've seen that his experience within Rain has allowed him to turn outward, and give Distributors the tools, help, and support that they don't always get. His mindset, work ethic, and deliberate, positive attitude are incredible."
 Jasmin has big goals for himself and his team moving forward, from hitting the highest Rain ranks to developing himself and others at the individual level:
"Seeing thousands of people having better health and hundreds having a better lifestyle than when they started, just shows that the effort has been worthwhile. We get feedback from people from several continents on how their life improved as a direct result of being approached with this category-creating concept of seed-based nutrition. That's what this is all about."
 We're looking forward to seeing what the next few months bring him.
About Rain International
Rain International is the original creator of seed-based nutrition. Our experts have gone to the source of plant nutrition to formulate products proven to support healthy lives.
Rain International is more than the products we sell. From the beginning, we set out to make changes to improve the world around us starting with the health industry and moving beyond its borders into global sustainability, education initiatives, elevated lifestyles, and more. We believe that the ultimate human experience we all crave is within everyone's reach, and we don't mind leading the way. For more info please visit www.rainintl.com.
Recommended Distributors Rain International