Juuva Creates Its "Never Ever Again Club"
June 23, 2020
By Team Business For Home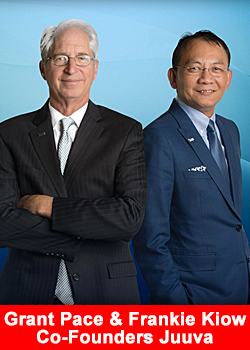 Grant Pace, Juuva Co-Founder and CEO stated:
"We have all heard it.  One spouse says to the other 'Honey, we're never ever going to do this again!'  It is a declaration born of frustration that despite best efforts, often in multiple companies, the income opportunity works for others but not for them. Not so in Juuva."         
Many who made this vow are now diamonds in Juuva. So many that Juuva has created its own "Never again Club".
Frankie Kiow, Juuva Co-Founder said:
"In all my 25 plus years in this wonderful industry, I have never seen so many people who have never succeeded before, then succeed in one company. Juuva is setting a new standard. "                                                                   
Here is what they say:
"We swore we were through with MLM.  15 years of low checks and $20,000 in System debt was enough.  We were done!  But we are so glad we gave it one more go with Juuva. The Compensation Plan made such a difference!  In the very first month our check was larger than we had ever seen, anywhere.  And it has only grown from there." Double Diamonds, Wade and Lee McLaughlin., Maine, USA.
"My friend insisted that Juuva was different. I did not believe him. Years of go nowhere efforts had soured me on all MLMs.  But I admit to being intrigued by Juuva. Now I am a Juuva Diamond, something I never thought could happen.  Thank you Juuva!" Diamonds, Ron and Julie Burgess., California, USA.
"I tried seven different companies. They all sounded great at the beginning. But I could never enroll a single person with any of them.  Then came Juuva. Wow  What a difference.  In the first month I enrolled 30 people personally and qualified for my first ever incentive trip.  I can't believe I wasted time trying anywhere else"  Double Diamond, Naomi Fox., Illinois, USA.
"There was something different about Juuva. Actually, a lot of things are different. Including real genuine support from a caring upline and a caring company. I was not alone. I am glad I set aside my never again view, to give Juuva a try. It has changed my life." Diamond, Randy Brown., California, USA.
About Juuva
At Juuva, we know the recipe for a company that lasts, and we're using it to transform lives every day. Juuva was built from the ground up to do things the right way—with integrity, passion and a distributor-focused mindset.
We pay a guaranteed 50% of PV to Distributors weekly. We want our Distributors to be successful because we know they are the key to our mutual success.
Our two co-founders, Grant Pace and Frankie Kiow, possess a wealth of industry experience and expertise and our entire executive team boasts more than 200 years of successful experience with the network marketing space. These individuals set the strategic direction for our company and they will do whatever it takes to provide the finest network marketing opportunity. For more information please visit www.juuva.com
Recommended Distributors Juuva