LifeVantage Launches Daily Pay
June 10, 2020
By Team Business For Home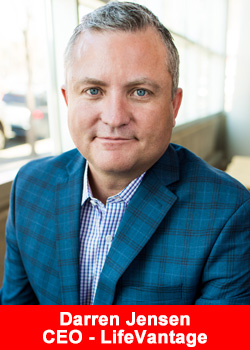 In light of COVID-19, around the world, businesses are taking advantage of the pandemic by sending messages of "love from a distance" and "togetherness." While many may be sharing these messages in their marketing, what are they actively doing to fix problems, help their customer base, or bring peace to an economy with historically unprecedented unemployment rates?
As many companies push furlough after furlough and unemployment rates are the highest they've been in decades, many workers are getting hungry for any form of extra pay. Not with LifeVantage. They've been busy doing everything they can to minimize the negative side effects of this recession for their Distributors. LifeVantage is deep in the trenches. LifeVantage is actively engaged with their customer and distributor bases. On top of allocating event funds, travel expenses, and corporate office overhead back into their distributorship in the form of prizes, promotions, and merchandise – LifeVantage is also paying their people… faster!
In early May Lifevantage rolled out their "Daily Bonus" program. Aimed at getting money into the pockets of their distributors faster, Daily Bonus calculates, each business day, the commissions earned from a distributor's previous day of labor. Any sales that were made are tallied by corporate, and LifeVantage's App then notifies the distributor of the calculation, and disburses the payment on a three day business turnover.
"This new terrain is a rocky landscape,"
said LifeVantage CEO Darren Jensen,
"we've got more than a dozen projects and promotions currently in the works – all aimed at making sure that if we can't smooth the terrain for the people of the world, that we do our best to equip them with the tools necessary to make it as comfortable a ride as it can be."

Working side by side with CSO Justin Rose, they've emphasized in multiplicity that, "…the effort always has been, and always will be that [their] distributors are family, and that family comes first."
Their Daily Bonus was accompanied by changes in LifeVantage Sales Compensation Plans for all 16 markets worldwide, in which they operate. LifeVantage has seen an uptick in enrollments and sales, and even more so in their recently opened markets like Taiwan, New Zealand, and Thailand. Whether that's a result of their dedicated efforts to their distributor base, or more populations turning to home based businesses amid social distanced and quarantined societies has yet to be seen.
One thing is for certain. Amid the current economic chaos created by COVID – LifeVantage is aiming at making sure their business owners remain off that path and out of harm's way. As LifeVantage would put it, "Flip The Switch, Feel Better, Do More."
To find out more about LifeVantage's Daily Bonus opportunities or enroll as a distributor, visit LifeVantage.com.
About LifeVantage
LifeVantage Corporation (Nasdaq: LFVN) is a pioneer in Nutrigenomics – a new science dedicated to biohacking the human aging code. The Company engages in the identification, research, development, and distribution of advanced nutrigenomic dietary supplements and skin and hair care products, including its scientifically-validated Protandim® product line, Omega+ and ProBio dietary supplements, its TrueScience® line of Nrf2-infused skin and hair care products, Petandim™ for Dogs, Axio® Smart Energy Drink mixes, and the PhysIQ™ Smart Weight Management System.
LifeVantage was founded in 2003 and is headquartered in Salt Lake City, Utah. For more information, visit www.lifevantage.com.
Recommended Distributors LifeVantage