LifeVantage Rewards Distributors Amid Historic Unemployment
June 16, 2020
By Team Business For Home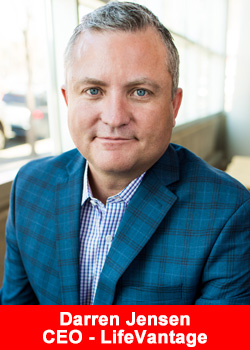 Ask anyone at LifeVantage, and you'll find they all seem to be surprisingly unaffected by today's economic affairs. It's not just the "Health and Wellness" aspect of the company that's keeping it afloat during such unprecedented times – it's this supplement company's business savvy and promotional tactics that are helping it thrive.
April marked a historic move for distributor-based network marketing company LifeVantage. "Free Enrollment" was a promo that rolled out to wild success, boosting Distributor enrollment over 90% (Distributor enrollments in April were 93% higher than the average Distributor enrollments in the preceding 12 months). A precise and marked tactic aimed at bringing those with little to no pocket change, hit by all-time high unemployment, a chance at starting their WFH business for free.
At zero cost down to start your business, LifeVantage watched itself top anniversary enrollments. CMO Ryan Goodwin remarked,
"…people are hungry for money, not just the workers, but even more so companies. Funds are tight for people; they are looking for additional ways they might bring in some cash. We are seeing record unemployment worldwide and no one knows when this is going to end. Our sales are actually doing really well, so we wanted to share the wealth and make the WFH option a bit easier to try."
While some network marketing companies might worry about rising attrition rates and lagging commissions, LifeVantage certainly is seeing just the opposite. In fact, in addition to those looking to create a full-time business, LifeVantage is seeing a large bump from those simply looking for supplemental income. "In reality less than 1% of their Distributor base works full time…" VP of Marketing Jesse Allen stated.
"This of course is based on the assumption that Elites and above only work their LV business as a 'full time job' and everyone else is 'part time'/side hustle." Meaning LifeVantage is dedicated to helping Distributors make the most out of their time and efforts in making their "side-hustle" as easy to maintain, simple to grow, and lucrative as possible.
LifeVantage's foresight continues to pay off almost daily it would seem, as their latest and current promotion, "Reach, Return, Mentor" sees distributors at the receiving end of their richest cash reward promotion in the company's history!
"Reach, Return, Mentor" or "Flip The Business Switch" (as it aligns with their overarching campaign of "Flip The Switch, Feel Better, Do More") isn't their only promotion either. In addition to "Free Enrollment" (which ran during April), the recent roll of their "Daily Bonus" feature, newly revised Compensation Plan, and the launch of a new app – LifeVantage is also packing in a whopping 12 initiatives. From Mother's Day promotions, to limited-time-offerings on specialty products – LifeVantage has a seemingly endless list of incentives, promotions, and tools they put at their distributor's fingertips.
And it's not just their promotions that they have been hard at work on, their Marketing and Communications team have been pushing around the clock for their recent launch of their "Monthly Marketing Playbook," a social media assistance program that provides, "…a catalogue of information we've prepared that you can share however you'd like – to help build ​Your Brand!"
It seems LifeVantage isn't content with simply selling their product – but also charges forward in building each distributor's marketing intellect, business savvy, personal growth, and sense of familial support and worldwide care. A refreshing and bold move that companies around the world need to keep up with if they're going to have any chance of hanging on in the future.
About LifeVantage
LifeVantage Corporation (Nasdaq: LFVN) is a pioneer in Nutrigenomics – a new science dedicated to biohacking the human aging code. The Company engages in the identification, research, development, and distribution of advanced nutrigenomic dietary supplements and skin and hair care products, including its scientifically-validated Protandim® product line, Omega+ and ProBio dietary supplements, its TrueScience® line of Nrf2-infused skin and hair care products, Petandim™ for Dogs, Axio® Smart Energy Drink mixes, and the PhysIQ™ Smart Weight Management System.
LifeVantage was founded in 2003 and is headquartered in Salt Lake City, Utah. For more information, visit www.lifevantage.com.
Recommended Distributors LifeVantage