Start-up Ascira Is Growing Fast
June 16, 2020
By Team Business For Home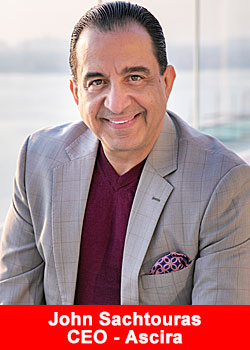 John Sachtouras, ASCIRA Founder/CEO stated:
Although, it is difficult to grasp how much our daily life has changed in the past 100 days, ASCIRA had its First 100 Days of pre-launch, filled with various challenges, and great success as well.
Several leaders in ASCIRA qualified at Diamond, Double Diamond and even Triple Diamond level, during global disruption, shutdown, uncertainty, without any personal face-to-face presentation, and not even a handshake…. ALL Online.  This will be the "new-norm" to build businesses – online – any business!
We want to thank and congratulate all the ASCIRA members who have inspired so many people, within our company and the industry. Accepting and adapting to global changes will become more and more mandatory across many industries and this will create both significant challenges and even greater opportunities.
I wish to take this opportunity to express my gratitude and appreciation to the direct selling industry, which I belong for more than three decades, and to all of the personal, professional development trainers and mentors I had over the years.  It was their guidance and experience that helped me achieve my goals, and now it is my time to give back to the global community and make a difference.
I would like to invite all of the leaders, and all the direct selling and network marketing companies to keep a positive outlook and with greater strength and vision for a better future. Let's set a high standard of professionalism, and remain united so that we can elevate this amazing industry with pride and dedication to keep helping people convert their goals and dreams into reality, and to do it with passion and integrity.
Together, we can accomplish great things in the future… This industry is responsible not only for additional income but, most importantly, for the personal & leadership development of millions of people all over the world.
People will have to learn how to successfully transition from previous habits to new ways of doing business, and leadership skills will be needed more than ever before. Let's work together to help people endure these drastic changes, to identify key value drivers and create a roadmap to make necessary adjustments. Remember "NEVER GIVE UP".
About ASCIRA
ASCIRA is a global company created to provide solutions to the number one need most people have around the world – the need and desire to increase their income. Our mission is to provide great values and exceptional benefits to empower people and elevate their mindsets to unleash their maximum potential, to improve their quality of life while embracing the modern era of living.
Our vision is to connect Beyond a Billion people around the world through the integration of three of the most powerful industries under one umbrella: Network Marketing, Social Media and E-Commerce, while offering our valued IMA's one of the most lucrative compensation plans in the industry. For more information, please visit www.ascira.com