Cloud 9 Life Launches Fuel Your Fearless Challenge
July 15, 2020
By Team Business For Home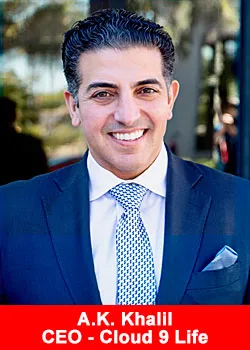 The Fuel Your Fearless Challenge is an 8-week gut health transformation designed to transform the body's health by restoring and repairing the crucial 'Gut-Brain' connection that keeps it safe, strong, and healthy.
The Challenge is free to register and it provides all Cloud 9 Life customers the tools and accountability needed to kick-start gut health and the immune system and to become the healthiest version of themselves.
"If you want to get on the fast-track to whole new levels of health and happiness we tell our new customers and Executives to immediately join the Fuel your Fearless Challenge, follow the free nutritional and exercise plans and get ready to turn their bodies into a powerhouse that keeps them fresh, focused and feeling better than ever before,"
says CEO A.K. Khalil.
Cloud 9 Life isn't just about weight loss, and neither is the Fuel Your Fearless Challenge. This Challenge is the perfect sales tool for Cloud 9 Life Executives to use to introduce new customers into their business.
"It's an opportunity for our Executives to offer their customers an opportunity to change their lives for the better, whatever their goals may be; improved focus, more energy, weight loss, they decide and get rewarded for it along the way," says A.K.
"The Fuel Your Fearless Challenge is not one of those before and after weight loss challenges, it's so much more, the 8-week total body, mind, and gut health transformation is designed to provide our customers with the tools and accountability they need to make a healthy change. And it's simple, they take the products, they feel amazing, they tell us about it and we reward them."
Go to www.cloud9life.com/fuelyourfearless to learn more.
About Cloud 9 Life
Established in January 2020, Cloud 9 Life is a vehicle to help people take control of their health and their finances. Committed to providing truly exceptional products, customer service, and tools to support customer success Cloud 9 Life has made being a business owner more accessible, more attainable, and more fun than ever before.
Cloud 9 Life is a privately owned company with headquarters in Naples, FL. For more information, visit Cloud9Life.com