Daniel Onoja Achieves Blue Diamond Rank At OmegaPro
July 2, 2020
By Team Business For Home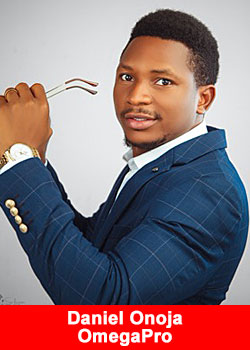 Within 10 months in the Omegapro network, Nigerian entrepreneur Daniel Onoja is proud to have achieved the Blue Diamond rank with the company.
The 31-year old boasts a business with 7 figures in monthly revenues and has grown his network of leaders in about 7 countries, including Nigeria, United Kingdom, Tanzania, Uganda, Ghana, Kenia and South Africa.
I need to thank my family, my beautiful wife, all the wonderful people in my team who have helped me along the way and the Vp of Sales, my mentor and brother Paulo Tuynman and his wife Amira Habib.


Thanking the founders CNO Dilawar Singh, SA Mike Sims, CEO Andreas Szakacs for all their support, leadership and providing this opportunity.
It took Daniel years of determination, dedication, and above all, passion to reach what he has now. In fact, prior to Network Marketing, he had his own IT consulting and project outsourcing firm, with the entrepreneurial mindset the transition to network marketing felt nothing but natural to him.
According to Daniel Onoja one of the first things he decided to do with 'Paulo Tuynman vice president of sales' was develop a training system, which includes strategies that were true and tested and that have become the best way to create duplications with the leaders in their network.
''We are in the business of confronting destructive habits, stretching personal limits and empowering passionate entrepreneurs wanting to help change the world for the rest of us.

Through our training system we help the leaders to develop a growth mindset (the belief that you are in control of your own ability, and can learn and improve) that is the key to success. Yes, hard work, effort, and persistence are all important, but not as important as having that underlying belief that you are in control of your own destiny''.
This is the key for Daniel Onoja his success, as he knows that in network marketing there is no need to reinvent the wheel; when something works it needs to be duplicated and executed perfectly, and results will come along.
Daniel, having achieved Blue Diamond rank in just 10 months at Omegapro, has a very important piece of advice for other marketers:
"understand the power of words. Thinking about a purpose is not the same as naming it and putting it into action. Once your goals stop being just ideas, they become more real and attainable."
About Omega Pro
The mission of OmegaPro is to deliver a secure world class trading experience to all clients – both retail and institutional. We continually invest in new technologies and people, to provide our clients with a diverse range of trading products and exceptional trading outputs.
Moreover, we put a major emphasis on account security – we use the most advanced tools and encryption protocols and provide plentiful market liquidity to ensure your capital. Thanks to the vast market volume that OmegaPro handles and our strict risk policies, we can ensure that your account with us is secure, while connecting you to the fast paced global markets. For more information please visit: www.omegapro.world