Hanso L. Denis Achieves Regional Vice President Rank At FES
July 7, 2020
By Team Business For Home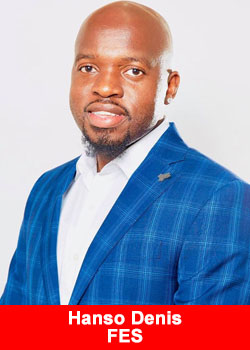 Hanso Denis, also known as, coach Legend, has many reasons to celebrate. A young struggling immigrant, born in Haiti and raised in St. Louis, Missouri, USA.
He faced the typical challenges of an unstable economy in Haiti and wanted to improve his credit and finances to provide more for his family. He has proven to Haitian Americans that they can be successful and achieve their goals despite cultural challenges.
Hanso stated:
"I have never seen a comp plan that is so rewarding. We finally found a company that aligns with our morals. The owners genuinely want to see people win at a high level"
I finally found a company with Co-founders that were truly passionate about their products and services. These products could sell themselves with or without an opportunity attached to it. I chose to build a business with Financial Education Services (FES) because I recognized that there was strong, authentic leadership in place, the company has been debt-free and most importantly the products worked.
"I feel secure in my future. I mean, I wake up every day excited to build this company and help people change their current situations. I've been fortunate to help feed and clothe over 1,000 families in Haiti because of FES.
I have witnessed my own family members transform from struggling financially to now leveraging their credit and assets all through financial literacy and education. And because of the simplicity of the FES business model, many of my business partners are earning more part-time than they did working full-time in their current career," says Coach Legend
In the short term, Legend is aiming to add 20 new Vice Presidents to his FES team. In the long term, He wants to help 1800 families to become financially free, live their lives to the fullest by improving their credit & finances and then consider an opportunity to earn income.
For more information please follow Coach Legend here.
About Financial Education Services
Financial Education Services has been helping consumers achieve their highest financial potential for over 10 years.
Our ever-expanding service line is consistently evolving to meet the demand towards a solution for financial issues consumers face today. We've covered the spectrum to create programs that can offer assistance to various pieces of the financial puzzle, with easy-to-use programs and the highest level of customer support.
By including educational resources along the way, we aim to help you meet your financial goals while also providing you with the tools for long-term, consistent success.
Our career opportunity provides a foundation for individuals and teams that are driven, highly motivated and looking for access to immeasurable success- while positively changing lives across the country. For more information please visit www.financialeducationservices.com
Recommended Distributors Financial Education Services