Karen & Peter Hirsch Reach $1 Million In Earnings In 15 Months At ibüümerang
July 29, 2020
By Team Business For Home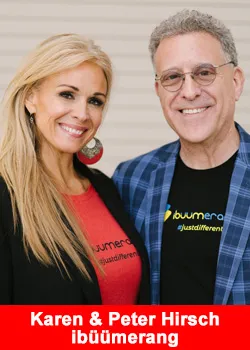 Karen and Peter Hirsch have earned over $1 Million in commissions in ibüümerang.
The power couple achieved this milestone in their first 15 months, which speaks to their leadership and dedication to supporting their team.
Mrs. Hirsch, a former publisher, is passionate about empowering women around the globe to thrive financially and live life with purpose. Mr. Hirsch is an attorney, author, and social entrepreneur.
Both see ibüümerang as the company of the present and the future. Karen says,
"ibüümerang is the perfect business model for women around the world. The very best time to speak with people about the number one home-based business is when people are at home"
Peter adds,
"The leadership is what makes all of the difference. CEO Mr. Holton Bugg's vision and leadership flourishes during more difficult times and he has led tens of thousands through recessions and downturns, and they have come out stronger financially."
Mr. Buggs says,
"I am proud of Karen and Peter. They epitomize the heart, passion, and purpose of ibüümerang and I am honored to call them not just partners but friends."
Peter also serves as the Chief Giving Officer of The Buum Foundation. Through the generosity of the leadership and the ibüümerang Ambassadors, The Buum Foundation raised enough funds to provide over 4 million servings of proper nutrition to some of the most vulnerable children in the world in 2019. The Buum Foundation is on track to triple that number in 2020.
About ibüümerang
Officially launched on September 1, 2019, ibüümerang's vision is to be a consumer-centric company focused on the philosophy of giving back.
ibüümerang's mission is to create a worldwide movement to empower people via the PRIB™ (Perpetual Residual Income Builder™), to provide an opportunity to succeed without selling by offering a 5-Star Lifestyle at 3-Star Prices, and to support The BüüM Foundation in providing an abundant life for every child on the planet.
For more information on ibüümerang, its top tier executive team, and its overarching philosophy, visit the company website at www.ibuumerang.com.
Recommended Distributors iBuumerang