Network-Marketing Industry Veteran Garrett McGrath Named President Of Elepreneurs
July 10, 2020
By Team Business For Home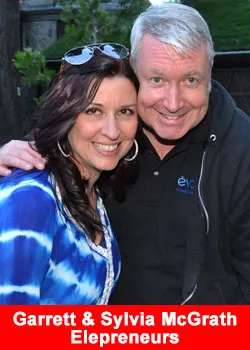 Elepreneurs announces the appointment of Garrett McGrath to the position of President. Prior to this role, McGrath served as Elepreneurs' Chief Impact Officer working to execute the company's vision, develop strategic direction, and provide training to help maximize the success of every Elepreneur and the Elevacity products.
"We are extremely excited to have Garrett as our new President! He is the perfect fit. He understands the needs of the field. He shares our values and beliefs. He is a leader in every sense of the word – visionary, inspiring, authentic, honest, accountable and full of heart!"
– Triple Crown Ambassadors Mark & Judy Willodson
"I am so incredibly excited to have Garrett as our new President. He has been a huge asset in countless areas of our company. I know this is just another stepping stone to the next level for us all."
– Triple Crown Ambassadors Brittany & Joseph Beck
"Garrett has and will continue to be a HUGE asset to our company's success! Garrett is a mentor to so many of us. He believes in the people of this company and truly cares about the success of all Elepreneurs. We are going to the moon and never looking back!"
– Triple Crown Ambassadors Ricky & Jessika Durant
"Success occurs when preparation meets opportunity. No doubt Garrett is prepared to lead this company to even higher levels of success! We couldn't be more proud and excited to partner with him here."  
– Triple Crown Ambassadors Lori & West Benson
McGrath brings more than three decades of network-marketing experience to Elepreneurs, building organizations of more than 150,000 distributors in 21 countries during that time frame. Along with his wife, Sylvia, who currently serves as Elepreneurs' Chief Experience Officer, this industry power couple also has served as master distributor for four prominent network marketing companies.
As a highly sought-after keynote speaker, leadership trainer, and field liaison, McGrath also serves as President of the Association of Network Marketing Professionals (ANMP), a role he's held since 2012. Established in 2004, ANMP is the premier nonprofit association advocating for the ethics, professionalism, and education of the network-marketing community.
"With his wealth of experience and industry prestige, Garrett McGrath is well suited for his new role as President of Elepreneurs," says company CEO Keith Halls. "We're excited to have him on board."
About Elepreneurs
Elepreneurs is on a mission to elevate your health, wealth, and happiness. We help you elevate your life through patented nutritional products, life-changing virtual success training, and a unique rewards program.
Elepreneurs actually builds happiness right into our powerful nutritional products. The superior, scientifically backed ingredients stimulate the happiness hormones — dopamine, oxytocin, serotonin, and endorphins — which we refer to as D.O.S.E. For more information, visit www.elepreneur.com.
Recommended Distributors The Happy Co.