Steve & Renee Price Advance To Elite Pro 7 Rank With LifeVantage
July 21, 2020
By Team Business For Home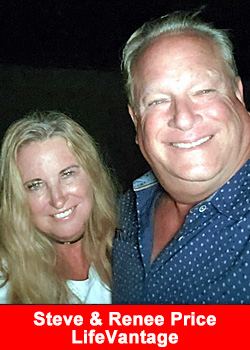 LifeVantage congratulates Steve and Renee Price of Bradenton, Florida, USA for recently achieving the rank of Elite Pro 7.
Steve grew up in Richmond, Virginia. Renee is from Lancaster, South Carolina. The couple met on a blind date and are now the parents of five children and six grandchildren, who range in age from 10 to 2.
Steve and Renee each had thriving, sustainable careers before they learned about LifeVantage, Steve in the IT industry, and Renee in real estate. However, when they learned about LifeVantage in the summer of 2015, they felt a passion for the product and a desire to promote it for the good of others.
"It became a no-brainer,"
Renee said of the couple's experience learning about LifeVantage. They felt the product was the right vehicle for their personal goals "to help others and to build a legacy for our children and grandchildren."
Less than a year after starting their partnership with LiveVantage, Steve and Renee's youngest son, Skyler, passed away unexpectedly. Their family was devastated. "We have always been positive people, but this shock rattled us to our core," Steve said. While such a tragedy could easily break a family, Steve and Renee leaned heavily on their faith and support from their family and friends.
As the family processed their pain, the couple found their work at LifeVantage to be a constructive outlet for their grief.
"LifeVantage gave us something to focus on and to take our eyes off ourselves," they said. The Prices find purpose in selling a product they believe will help others' health, as well as helping their team earn money for their families. 
Steve and Renee are grateful for their growth as they rise in the ranks of LifeVantage. Their roles have allowed them to travel to places they hadn't thought were possible before working for LifeVantage, and their sales have helped them build a successful business. "We are thankful everyday that we were offered this opportunity," Steve testified.
About LifeVantage
LifeVantage Corporation (Nasdaq: LFVN) is a pioneer in Nutrigenomics – a new science dedicated to biohacking the human aging code. The Company engages in the identification, research, development, and distribution of advanced nutrigenomic dietary supplements and skin and hair care products, including its scientifically-validated Protandim® product line, Omega+ and ProBio dietary supplements, its TrueScience® line of Nrf2-infused skin and hair care products, Petandim™ for Dogs, Axio® Smart Energy Drink mixes, and the PhysIQ™ Smart Weight Management System.
LifeVantage was founded in 2003 and is headquartered in Salt Lake City, Utah. For more information, visit www.lifevantage.com.
Recommended Distributors LifeVantage