Velovita Has Served 1 Millions Snaps Worldwide
July 28, 2020
By Team Business For Home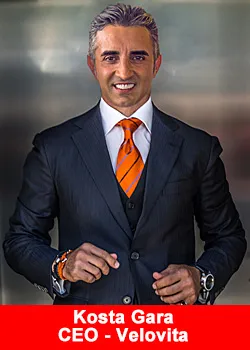 This hot new hybrid social selling company, Velovita, is giving people's hope and vision back with over one million snaps served of their flagship product Brān Reimagined in less than 90 days.
Brān, pronounced [breyn] is a premium stacked super nano-nootropic which is a delicious serum that comes in a single serving package that's fun and convenient to use while giving a natural energy boost, clearing brain fog, enhancing mood, and helping with cravings.
Founder Kosta Gara repeated himself with launching a company that is right on trend, albeit a downturn in the economy, yet, paving the way for another smash hit nutraceutical social selling company!
"We are humbled and grateful to have reached this incredible milestone in our company's short history. For us, the importance of this milestone isn't measured by financial numbers, but in the way we are making people feel,"
Gara said.
Since its inception in May of this year, Velovita has posted impressive growth, becoming one of the fastest growing companies in direct selling, launching in 4 countries in less than 10 weeks; USA, Canada, Japan, and Mexico.
Velovita Founders Kosta Gara, CEO, and the Co-Founder and President, Jeff Mack, credit the company's growth to the vast global family of Velovita Leaders, Members, Customers, and employees whose hard work and dedication continues to support the company's mission and vision.
"Fuel your brain, feed your mind." Gara's quote. And with that being said, when you feed your mind great things can be accomplished as their Members are hitting ranks week after week.
Jeff Mack added,
"The true value lies in the lives changed as people maximize their potential in their personal life and business by sharing our world-class, innovative products, and in the impact our success allows us to make."
About VELOVITA
Founded on 90+ years of operational and field success, VELOVITA is set to become a global leader of innovation in the field of nanoceuticals, community expansion, support, social selling, and education for the new world entrepreneur. Their mission is to provide an ecosystem of inspiration, education, and life enrichment. Velovita has a singular focus on the individual to increase their daily performance both mentally and physically.
For more information on VELOVITA, please visit Velovita.com or Velovita's Facebook page. You may also contact us at [email protected] To join the new movement, click here for the Velovita Member Rewards. We know you'll #LOVIT!
Recommended Distributors Velovita