Igor Alberts & Andreea Cimbala Reach $135 Million In Lifetime Earnings
August 19, 2020
By Team Business For Home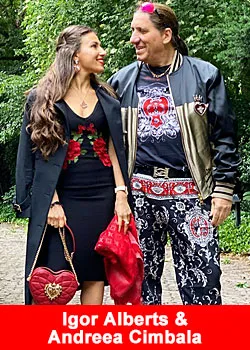 The Dutch couple and business partners, Igor E. Alberts and Andreea Cimbala are celebrating a new career milestone, having already exceeded $135 million in lifetime earnings, with an average monthly commission of $2.6 million. Recently, they even achieved $2.7 million in one calendar month.
"But these numbers are not only our profits, as we have globally hundreds of thousands of network marketing affiliates in our downlines who make commissions from at least 100€ up to even far over half a million monthly."
They say.
Despite these difficult times for most businesses, network marketing can thrive as a home-based business model. Igor and Andreea have not stopped working for a moment, using the quarantine to prepare their team more and better, and recently participated in a virtual event of the Success Factory company, which has proved to be a total success, with a global audience of over 100.000 in 3 days. Both are already preparing their participation in the next virtual event, which will take place in October.
"We have the tools, we have the technology and we have the best people working in our team. We can do whatever we want with the future: we can build the biggest project, not only in network marketing, but in business in general. There are no barriers, only challenges."
says Igor.
In order to celebrate this occasion and the hard and smart work the couple has done over the last months, Igor and Andreea went for a short vacation to Capri, Italy, a paradise island with a view of Naples and the famous Vesuvius volcano. They also visited Positano, a sunny dream destination situated on the mesmerizing Italian Amalfi coast.
But the celebration is still not over. The couple also signed up for the latest Dolce & Gabbana fashion show in Milan. Both were invited as representatives of the network marketing industry to the men's spring-summer fashion show in 2021, held in the garden campus of Humanitas University in Milan.
Due to the current situation, the fashion show had a more limited and exclusive capacity than usual, to guarantee the safety of the attendees, organizers and models. Therefore, although Igor and Andreea have been regular faces in the fashion world in recent years, this invitation was much more significant and special for them than on previous occasions.
About this achievement and the current circumstances, Andreea says:
"When you start thinking positive, no matter the circumstances, you always win and progress into the direction of your dreams.

What is important is not what happens, but how you react, plan and act on what happens and how you get what you really want to happen."
Igor and Andreea always openly state their commitment to Success Factory and comment that they now feel greater responsibility and love for network marketing, an industry that gave them so much. The couple has recently started a new personal project where they are creating educational videos to inform, teach and mentor everyone interested in this beautiful and rewarding industry, as well as a series of inspirational videos on personal development for everyone in the MLM industry.
About Success Factory
Success Factory is a network marketing company whose main goal is the promotion of human potential and supporting latest technology, relying on innovative and creative proposals that bring real solutions to the lifestyle in the 21st century.
The product catalogue of the company is mainly digital, covering the spheres of technology, education, sales skills and financial expertise. All that always improving quality, usability and exceptionality and offering its sales force different products to work with. The most outstanding items within the extensive ecosystem of the company are Forex Insiders, B.A.N.K., Dagcoin, and Dagpay.
Success Factory has come to be the company that transforms network marketing, being, above all, a company that detects, trains and empowers the sales professionals that will be the great legends of the industry tomorrow. Find more information on the company's website www.successfactory.com.