Iulian Cimbala Achieves $565,000 Commission Per Month At Success Factory
August 7, 2020
By Team Business For Home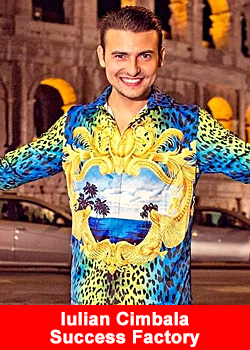 Iulian Cimbala reached the number 10 spot in the Top Earners list. He is an Ambassador of Success Factory and stated on his outstanding accomplishment as follows:
"Being number 10 with half a million of monthly income is really a dream come true. I am extremely proud of my own performance and that of my team.

I have to admit that I have been working for this rank for years, however I still didn't expect to reach such high monthly income. It is the result of hard work, discipline, dedication and, of course, efficient mentorship."
After only 2 and a half years in Success Factory, Iulian Cimbala has been able to boast the prestigious rank of Ambassador, receiving his spectacular Ferrari Portofino on stage in Dubai. He passionately expressed his gratitude to his mentor and sponsor Igor E. Alberts, the number 1 in the industry, who made this rank and this income possible.
Team Business For Home had an interview with Iulian:
How do you feel being an Ambassador? What does it take to reach this rank?
Proud, of course. Of myself, my team and my company. And happy. It hasn't been an easy path, and although my mentor Igor E. Alberts assured me that I didn't need, like him, 30 years to get to the top, I went through some hard times when I wanted to give up. I didn't, though, I kept resisting and growing through action and repetition.
And here I am today, and this is especially exciting to realize that this rank is a confirmation that I bring value to the lives of our company's members and their families. I would even say, to the lives of all those involved in the industry.
How did you feel about the reward you received, the Ferrari Portofino?
IC: I've always dreamt about a super car, and I think Ferrari is exactly that. But I also think that more than a car, it is a symbol. Our opportunity and our company are the Ferrari of network marketing.
It offers stability, dynamism, power, speed and elegance. It can take you very far and very fast. Once you learn how to drive the Success Factory opportunity, leadership and teamwork, a Ferrari car will manifest itself in your life. A great reward for helping other people change their lives.
Do you think your childhood experiences influenced your success?
Absolutely. I come from a poor family of workers, where, unfortunately, violence, pain and misery were the order of the day. But all those things really made me a millionaire in my heart. I was dreaming nice things at night to forget about all the bad things.
And when the things started to get worse, I dreamt with my eyes wide open, using my creativity and maintaining a firm determination that I didn't want the same situation for my children in the future. I recycled my pain and turned it into the power and energy to fight for a better future.
Your recent achievements place you in the Network marketing Hall of Fame. How exciting is this?
IC: There is a small elite group of international leaders who promote the network marketing industry in a generic way. I still can't believe that from now on I have the privilege to be part of it. Those leaders, we, are active on social media, speak at worldwide conventions and serve through international organizations.
All with the purpose to promote the industry itself and make people's life better through it. We get our inspiration, energy and power from people who follow our flame, but at the same time, we need to keep the flow moving and to pay it back to the source of our power, the people.
Servant leadership is a philosophy and set of practices that enrich the lives of individuals, build better and bigger organizations and ultimately create a more just and caring world.
Can you say some words about the network marketing industry.
By its very nature and design, network marketing is the most fair, democratic, socially responsible system of generating wealth in the world which gives you the opportunity to face your fears , deal with them, overcome them and bring out the winner that you have living inside you.
Everyone who gets involved in network marketing begins on the same level. You are not judged by your age, background, race, education or financial condition. And as you help lift others to higher levels, the industry rewards you. It is an inspiring business model, indeed.
You can achieve financial independence while enjoying time freedom, and your message is that anyone else who wants it can achieve it, too.
As an Ambassador, what is long-term vision now?
My mission has always been to wake people from this unaware sleep, so they can really start to live a real life, filled with everything our mind and heart can imagine. People must become aware of the potential they have inside and the potential that our company has as a tool to make their dreams come true. I will be working for a united world by connecting people through love and technology, for the ultimate result of a better and happier society. I don't know how long it will take me, but it's my biggest aspiration, which I will fight for. I will invest my whole life in it, in people, in dreams and dreamers and in the vision. The best is yet to come.
Is there a message you would like to give to our readers?
Yes. In spite of all the excitement about me or my colleagues reaching ranks in the Top Earners list, we shouldn't forget that the most important thing is not the finish line, but the process of getting there, the journey. It is all about you exploring the process, learning, growing and enjoying life in a conscious way together with all around you.
About Success Factory
Success Factory is a network marketing company whose main goal is the promotion of human potential and supporting latest technology, relying on innovative and creative proposals that bring real solutions to the lifestyle in the 21st century.
The product catalogue of the company is mainly digital, covering the spheres of technology, education, sales skills and financial expertise. All that always improving quality, usability and exceptionality and offering its sales force different products to work with. The most outstanding items within the extensive ecosystem of the company are Forex Insiders, B.A.N.K., Dagcoin, and Dagpay.
Success Factory has come to be the company that transforms network marketing, being, above all, a company that detects, trains and empowers the sales professionals that will be the great legends of the industry tomorrow. Find more information on the company's website www.successfactory.com.
Recommended Distributors Success Factory