Julian Riegler From Austria Achieves Diamond Ambassador Rank at Kuvera 
August 28, 2020
By Team Business For Home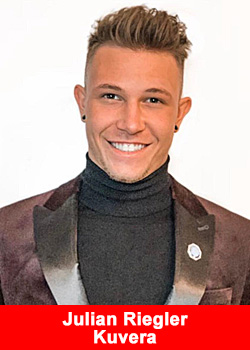 Julian Riegler and his team have an ambitious goal of helping one million people in the next ten years live a better life. This goal stems from a question he frequently asks himself, "how can I benefit others with my existence?"
Julian Riegler, 21 years old, is from a small town in Austria, near Ried im Innkreis. From a very young age, Julian knew he had a task to conquer in life and has always had an entrepreneurial mind. When Julian was a young boy in kindergarten he would play by pretending to set up his own company. Ever since he was a young boy he knew he wanted to be his own boss.
As Julian got older, he chose one of the traditional paths and pursued his education in carpentry. During his apprenticeship, he realized two of the most important factors in his life had been taken from him: time and health. Luckily, Julian never lost sight of his goal to be his own boss, and remained open to new ideas and opportunities.
As a result of his open mindedness, he was introduced to Network Marketing. After completing his carpenter education, he decided to go all in. He quit his job and quickly embraced Network Marketing full time. In November of 2018, Julian started his journey with Kuvera. He said,
"I am grateful every day for joining Kuvera. I see my future in this company. The camaraderie with all the teams in Kuvera is incredibly unique. We are a big family and I really appreciate that. No matter what problems arise, we always try to work together to find the best solutions." 
Julian's favorite Kuvera product is ALERTSone. He says,
"It's fascinating and amazing to see how I can offer people the opportunity to learn how to succeed in the global financial markets. You can participate with ALERTSone without much knowledge and capital."
Julian devoted his whole heart and soul into his Kuvera business. He takes pride in building good relationships with other people. He feels like this quality is very important if you want to be successful in the Network Marketing industry. Julian always tries to do what's best for his team and tries to solve every problem while remaining a good and loyal friend and business partner.
With ambition and perseverance, along with a lot of pain, tears, sleepless nights and months of hard work, Julian recently achieved the rank of Diamond Ambassador.  When asked what advice he'd like to give to the field, he said,
"you have to have iron discipline. There will be difficult times, but you always have to stick with it and never give up." He also urges every new member to immediately implement the advice they are given by their mentors because mentors will help you learn from their mistakes. 
Julian also said,
"Everyone who wants to make more of their life has to be open to new possibilities. If you are interested in Network Marketing, know that you have great opportunities here at Kuvera to achieve your dreams and goals. Be here when we bring this company to the top. Be jointly responsible for it when we go to the top with this company.  Now is the time to decide if you want to be here from the start. The best time to start was yesterday."
Julian Riegler is a great leader in the field. He values every member of his team and knows his successes wouldn't be possible without them. He explained,
"The greatest success for me is when I see my team partners celebrate successes, seeing how they become financially and temporally independent and how they can grow beyond themselves. I also find great success watching how personalities develop and seeing our GameChangers team get bigger every day."
Julian plans to continue mentoring his team. He wants to help his team members rank up as much as possible in the business.  He believes every single one of his teammates deserves success and he's ready to offer his support to help his team accomplish their goals.
About Kuvera
Kuvera, a subsidiary of Investview, delivers financial education, technology and research to individuals through a subscription-based model. Kuvera provides research, education, and investment tools designed to assist the self-directed investor in successfully navigating the financial markets.
These services include research, trade alerts, and live trading rooms that include instruction in equities, options, FOREX, ETFs, binary options, crowdfunding and cryptocurrency sector education.
In addition to trading tools and research, Kuvera also offers full education and software applications to assist the individual in debt reduction, increased savings and budgeting.
Each product subscription includes a core set of trading tools/research along with the personal finance management suite to provide an individual with complete access to the information necessary to cultivate and manage his or her financial situation. For more information, please visit kuveraglobal.com