Kannaway® Welcomes Former MLB Player Dave Miller As Brand Ambassador
August 6, 2020
By Team Business For Home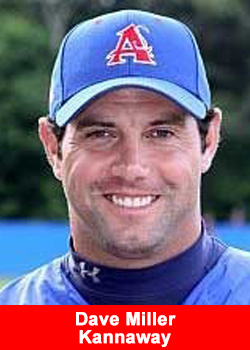 Kannaway® is excited to welcome former professional baseball player Dave Miller to its field of accomplished Brand Ambassadors.
"Recognizing the leadership and excellence that Dave has shown over his long career as a professional athlete and coach, I look forward to seeing all he'll accomplish in Kannaway,"
said Kannaway® CEO Blake Schroeder.
A former collegiate star at Clemson University, Dave helped lead the Tigers to national number one ranking in both his sophomore and junior years. Dave was named a finalist for National Player of the Year honors and helped his team advance to the College World Series in 1995.
After being drafted in the first round by the Cleveland Indians as a junior, Dave played nine seasons of professional baseball, competing for the Cleveland Indians, Atlanta Braves, Philadelphia Phillies, Cincinnati Reds and Pittsburgh Pirates organizations.
Following his professional career, Dave went on to become head coach at William Penn Charter School, where he led the Quakers to a 26-2 record and a USA Today Super 25 ranking in 2017.

In only his second year at La Salle University, Dave helped raise the team and compiled the 4th most wins in a single season in program history with 25.
Dave became a Miken Pro Softball player at the age of 42. He also started the M25 Miller Baseball Program, an organization that supports kids ages 8-18 in the Philadelphia area.
His first introduction to Kannaway® was as a consumer, using the hemp CBD oil to help address issues related to his long sports career, as well as making a remarkable impact on his digestion.
"After having experienced the benefits of Kannaway hemp cannabidiol (CBD) oil products myself, I look forward to this opportunity to introduce people to the potential benefits CBD can offer," said Dave.

"I'm proud to join the dedicated team at Kannaway in their effort to expand to new customers."
About Kannaway 
Kannaway® is a network sales and marketing company specializing in the sales and marketing of hemp-based botanical products. Kannaway® currently hosts weekly online sales meetings and conferences across the United States, offering unique insight and opportunity to sales professionals who are desirous of becoming successful leaders in the sale and marketing of hemp-based botanical products.