László Zsolt Kun From Hungary Achieves 100k Rank At MyDailyChoice
August 25, 2020
By Team Business For Home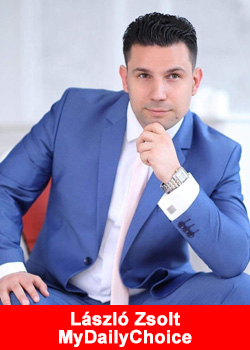 László Zsolt Kun is no stranger to network marketing. A 14-year veteran in the business, László took a break from direct sales and for the past three years worked as a sales director for a private health care center.
In December 2019, he was drawn back to network marketing specifically because of MyDailyChoice and its top-quality wellness products and unique business opportunities! László says he has never worked for a company as innovative as MyDailyChoice.
He was impressed by MDC's outstanding and revolutionary products as well as its established and reputable position as a global networking company. Within two months of joining MDC, through disciplined focus, excellent business tools, and dedicated time management, László experienced remarkable sales and was earning enough income to quit his job in private health care.
László thanks Josh and Jenna Zwagil for creating a progressive and groundbreaking network marketing company that allows him to do what he loves most, which is showing others how to enhance and improve their lives. László says,
"I want to be part of the journey of helping people achieve their dreams!"
CEO & Founder Josh Zwagil says,
"As we continue MDC's international expansion, it's wonderful to have dedicated and talented Affiliates like Laszlo on our team. His mission to help others is inspiring and motivating, and I look forward to seeing the great things he will continue to do as he grows his business." 
László also credits his wife for helping him become a success and reach 100K rank within one year at MDC. László says,
"She is my foundation and helps me from the background. My wife is always there for me, offering encouragement, endless support, and motivation to enhance my business and do better."
Other important persons essential to his achievements include: the Adam family, who told him about MDC; his father, who joined him for the first time and teaches and supports the team;
Sandor Dobi, who helps with MDC's international expansion and with the DU market opening;
Tamas Gal, his teams system developer;
Robert Hollis, who is an unlimited source of inspiration;
and the other 45 people on his team who trust him and give him confidence.
László's goal is to keep making dreams come true and, in the next year, impact 10,000 lives and achieve Super Affiliate status. His goals do not stop there, and eventually he hopes to help 100,000 people achieve their goals while reaching Master Affiliate level.
About MyDailyChoice
MyDailyChoice, Inc., based in Las Vegas, NV, is the global leader for pure CBD products, the finest essential oils, exclusive travel deals, and wellness and performance products. With more than 75,000 active Affiliates worldwide and four unique brands – HempWorx, Mantra Essential Oils, High Life Travel, and Daily Sprays – MyDailyChoice is a recognized leader in the Direct Selling Industry.
MyDailyChoice brings its mission to empower families with the opportunity to be physically and financially healthy. MyDailyChoice's 100% commitment to innovation continuously brings customers and Affiliates the highest quality and latest product breakthroughs in the wellness space, supporting holistic lifestyles and the entrepreneurial spirit.
For more information, please call +1 (888) 877-5436 or visit www.mydailychoice.com.
The are no guarantees regarding the income from the MyDailyChoice/HempWorx opportunity. The success or failure of each Affiliate, like in any other business, depends upon each Affiliate's skillset and personal effort. Earning levels for Independent Affiliates are examples and should not be construed as typical or average. Income level achievements are dependent upon the individual Affiliates business skills, personal ambition, time, commitment, activity and demographic factors. To view the MyDailyChoice Income Disclosure Statement, click here.
Recommended Distributors MyDailyChoice