Megumi Komine From Japan Achieves Platinum Ambassador Rank At Kuvera
August 21, 2020
By Team Business For Home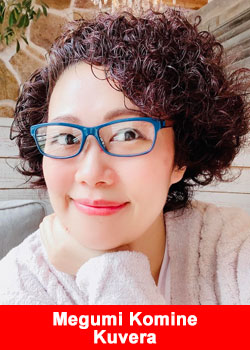 In the beginning, sharing Kuvera's products and business opportunity with others was more difficult than Megumi Komine ever expected.  She lacked knowledge and experience because she had spent most of her career in the health and beauty industry.
Financial education was way out of her comfort zone. However, after her first few introductions, and with the help of her mentors, she began to gain confidence, knowledge, and experience. Before she knew it, people were looking at Megumi as a mentor and asking for her help to grow their businesses. Megumi has now reached the rank of Platinum Ambassador at Kuvera, and is the 2nd highest ranking distributor in all of Japan.
Megumi's story all started in a small cafe. She didn't know much about Network Marketing, or the financial markets, so she spent numerous days listening to her mentor, Tomomi Nishimura, share the Kuvera opportunity with others. They invited people to the cafe every two hours, day after day, while Megumi memorized and grew more comfortable sharing Kuvera's opportunity.
Megumi Komine, 44 years old, is from Yokohama, Japan. Before Network Marketing, she spent the majority of her time working in the health and beauty industry. When she was first introduced to Kuvera she wasn't planning on building a business. She wanted to be a customer of Kuvera's products because she wanted to manage her own capital. She grew impressed with Kuvera and admired their excellent service and dedication to continually update their products to meet the needs of their users.  Though it wasn't her focus, she quickly learned how to cover her monthly fee by sharing the opportunity with a few people.
Megumi's favorite Kuvera product is ALERTSone, an education platform that provides alerts for all three of the major markets. She says ALERTSone helped her quickly learn about each market and how to trade. Now, following the alerts has become one of her hobbies.
After Tomomi, Megumi's mentor, moved back to Thailand, Megumi fought off her fear and insecurities and decided to dive into the business head first. She felt a responsibility to grow for herself and for her team.
Megumi was determined. With the Kuvera website only displaying in English at the time, and relying on Tomomi to translate, she decided she needed more independence. She knew more independence would help both her and her team. She said,
"I really value the people in my group and the members of the business team.  I am committed to continuing to grow myself for them."
Megumi began studying English on google translate and YouTube. Now, two and a half years later, Megumi can understand her leader, Eduard Khemchan, and have simple conversations that help grow her business. She feels that she learned English and attained more comprehension while studying English than she did studying to become a nurse because the people who needed her knowledge the most were right in front of her.
In January of 2020 Megumi was recognized for achieving the most personal sales. Since then, Megumi's anxiety disappeared and she felt she can now enjoy learning and continuing to grow.
Megumi credits her success to her great leaders, Tomomi and Eduard. They encouraged her throughout her journey, and they have built up a great team together. Megumi's team focuses on their strengths and weaknesses. With their foundation built on love, trust and respect, they rely on each other and utilize each other's strengths to compensate for their own weaknesses. Megumi said,
"If I were extremely talented and could do everything by myself, we wouldn't have this amazing team."
When asked what advice she'd give to her peers, she said,
"It's a waste of time to look for why you cannot do something. Your future will show the results of how you think and act now. Effort does not only mean difficulty or hardship. Effort is joy. It is your chance to discover your potential and access a brand new stage in your life. Responsibility does not mean encumbrance or burden. Responsibility can be described as proof of freedom. If you are willing to take responsibility, you can get great freedom!
With Magumi's ability to stay focused, act when needed, and drive to continually educate herself, she is unstoppable.  She has a goal to lead new leaders on her team and help them grow their businesses. She finds satisfaction in her team members and says: "my team is an irreplaceable joy in my life".
About Kuvera
Kuvera, a subsidiary of Investview, delivers financial education, technology and research to individuals through a subscription-based model. Kuvera provides research, education, and investment tools designed to assist the self-directed investor in successfully navigating the financial markets.
These services include research, trade alerts, and live trading rooms that include instruction in equities, options, FOREX, ETFs, binary options, crowdfunding and cryptocurrency sector education.
In addition to trading tools and research, Kuvera also offers full education and software applications to assist the individual in debt reduction, increased savings and budgeting.
Each product subscription includes a core set of trading tools/research along with the personal finance management suite to provide an individual with complete access to the information necessary to cultivate and manage his or her financial situation. For more information, please visit kuveraglobal.com