MLM Leader Pratik Sinha From India Joins QuiAri
August 25, 2020
By Team Business For Home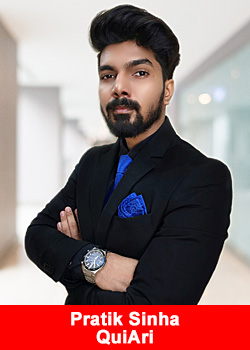 When Promoter, Pratik Sinha was just 8 years old, he wasn't like the rest of his friends who dreamed of becoming firefighters, soldiers, or YouTube stars. Pratik, who is from New Delhi, India, wanted to follow in his father's footsteps in network marketing because he experienced first-hand how the industry could instantly change lives.
"My mother was diagnosed with cancer when I was a boy. It was rough on the family, both emotionally and financially. My Dad neglected his business and drained his savings while trying to save my mother's life. When she passed, we were left deep in debt. My father turned to network marketing to rebuild. He worked very hard and got us back on our feet in very little time,"
stated Pratik Sinha.
Pratik, now 28, has found his own success in the direct sales industry. In fact, he was the youngest ever top achiever in his previous company.
"I was doing well before I joined QuiAri, but I have zero regrets leaving. QuiAri is the best opportunity in the industry – and it's only getting better as they expand globally. My dream is to have teams in 50 countries. I know that I can make that happen. I've already achieved more in less than a year with QuiAri than I have in the last 5 years. It's incredible."
QuiAri Founder and CEO, Bob Reina, has been working 24/7 to bring his products to new markets all over the globe. In just 10 months he has built QuiAri into the #1 fastest growing home-based business opportunity with his two immensely popular products, QuiAri Shake and QuiAri Energy.
"Each day we are literally flooded with testimonials from people enjoying better health thanks to QuiAri products. As a result, they are enjoying life in ways they couldn't before – like keeping up with their children, going on hikes, increased self-confidence, etc.  I think young Promoters like Pratik are rushing over to QuiAri not just because of our generous compensation plan, but because they see an opportunity to make a difference in the lives of others all over the world,"
stated QuiAri Founder and CEO, Bob Reina.
QuiAri's proprietary products, Shake and Energy, are selling at a record-setting pace. The key ingredient in QuiAri products is maqui, the world's new #1 superfruit. The maqui berry is found in the pristine mountains of Chile's Patagonia region and is considered sacred by the Mapuche Indians for its many healthy benefits.
"QuiAri is the first company in history to introduce maqui to global markets. The antioxidant power is off the charts – more than goji, mangosteen, and even the previous #1 superfruit, acai. QuiAri took it a step further and developed an exclusive extract, MaquiX® that boosts the antioxidant power even more. These products, in my opinion, are the holy grail of nutrition," said Pratik Sinha.  
Pratik believes it is the perfect time for people to join. Demand for QuiAri products are at an all-time high, plus QuiAri has raised the bar in terms of compensation for the entire industry. They currently have the fastest paying, the fastest cycling binary, and one of the highest paying compensation plans with many opportunities to earn bonuses at all levels.
"QuiAri is the only company in the health and wellness industry that offers Same Day Pay. Commissions earned are paid within 5 minutes after each sale – and that's worldwide. Same Day Pay is a real game-changer because Promoters are eligible to start earning within minutes after joining. We've all got bills that can't wait to be paid. The QuiAri opportunity can help relieve some of that pressure if you're willing to put in the work."
As Promoters move up the ranks, more opportunities to earn become available. Pratik has only been with QuiAri a short time and has already advanced.
"I'm so excited and motivated to do a good job. The respect and recognition QuiAri Promoters receive is outstanding. I'm not a top earner yet, but I'm still treated like one. And the resources I have to help me build my business are second to none. Everything is the best of the best. Bob Reina wouldn't run his business any other way."
Looking ahead, Pratik is working hard to make history at QuiAri. He aspires to be the youngest Promoter in QuiAri to achieve the rank of 500K.
About QuiAri
QuiAri is the #1 health and weight loss movement in the world today. Featuring exclusive, breakthrough products (QuiAri Shake and QuiAri Energy) and a one-of-a-kind 90-Day Kickstart Challenge, people everywhere are losing weight, boosting their energy levels, and improving their health. What started as an idea has now become a worldwide phenomenon, gaining a passionate following in over 200 countries.
But that's not all! We boast an exciting opportunity that pays people to promote the Challenge. Featuring industry-first, state-of-the-art payment technology, Promoters can earn Same Day Pay – that's commissions paid within 5 minutes after every sale. Combining unrivaled products with the fastest payout, the fastest cycling binary, and one of the highest paying compensation plans in the industry, there's no doubt QuiAri is helping people live healthier, happier lives. To learn more, please visit quiari.com.
These statements have not been evaluated by the Food and Drug Administration. These products are not intended to diagnose, treat, cure or prevent any disease.
Income Disclosure Statement
Please note the QuiAri business opportunity offers unlimited income potential. However, QuiAri makes no guarantee of financial success. Success with QuiAri results only from successful sales efforts, which require hard work, diligence, skill, persistence, competence, and leadership. Your income will depend upon how well you exercise these qualities.
As QuiAri is in its first year of business operations, we do not have sufficient statistical data to prepare complete, first-year income disclosures. A more detailed survey will be conducted after our first year of business.
Recommended Distributors QuiAri