Nu Skin Q2 Revenue Down 3% To $612 Million
August 6, 2020
By Team Business For Home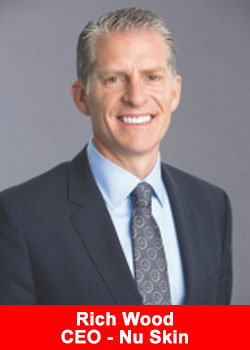 Ritch Wood, CEO – stated:.
"Our business performed well above expectations in the second quarter of 2020 driven by our socially enabled business model, strategic investments in technology and manufacturing, and our balanced product portfolio.

Strong global customer growth of 29 percent in the quarter, driven by our focus on empowering sales leaders to reach more customers, resulted in constant currency revenue growth due to the strength of our business in the Americas and Europe. Our Mainland China business continues to recover with slight sequential revenue improvement and strong customer growth.

"I am particularly proud of the way our global sales leaders have embraced socially enabled commerce, with more than 85 percent of revenue in the quarter coming through digital transactions. In addition, our manufacturing division generated 20 percent revenue growth and increased stability in our supply chain. In the first half, we generated strong cash from operations, raised our dividend, strengthened our balance sheet and reduced our outstanding shares by nearly eight percent."
"Our performance so far this year gives us confidence for the second half and momentum as we move into 2021. We believe the improved productivity of our sales leaders is driving strong customer growth and will lead to sales force expansion as we move toward the introduction of our ageLOC Boost device and Nutricentials Bioadaptive Skin Care in the second half.
We will continue to focus on the expansion of our socially enabled business around the world with the release of our latest digital tool, Vera, a personal product recommendation app. Overall, we are confident in the direction of our strategy and the future ahead," Wood concluded.
Mark Lawrence, chief financial officer, added, "We delivered results above expectations and achieved constant currency revenue growth ahead of schedule. Given our performance in the first half and continued trends in our customer and sales leader pipeline, we are raising our guidance for the year.
As we look ahead to the third quarter, we anticipate revenue of $605 to $635 million, which includes 1 to 2 percent unfavorable foreign currency impact, and earnings per share of $0.78 to $0.88. We are raising our 2020 revenue guidance to $2.37 to $2.45 billion, which reflects a negative foreign currency impact of 2 to 3 percent, and we anticipate annual earnings per share of $2.85 to $3.10."
About Nu Skin Enterprises, Inc.
Founded 35 years ago, Nu Skin Enterprises, Inc. (NSE) empowers innovative companies to change the world with sustainable solutions, opportunities, technologies and life-improving values. The company currently focuses its efforts around innovative consumer products, product manufacturing and controlled environment agriculture technology.
The NSE family of companies includes Nu Skin, which develops and distributes a comprehensive line of premium-quality beauty and wellness solutions through a global network of sales leaders in Asia, the Americas, Europe, Africa and the Pacific; and Rhyz, our strategic investment arm that includes a collection of sustainable manufacturing and technology innovation companies. Nu Skin Enterprises is traded on the New York Stock Exchange under the symbol "NUS." More information is available at nuskinenterprises.com.