Sandy McClure Achieves Elite Pro 7 Rank At LifeVantage
August 12, 2020
By Team Business For Home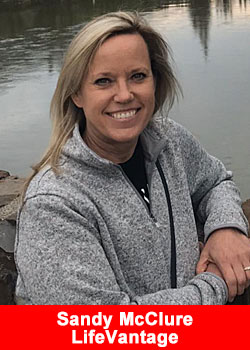 LifeVantage is proud to announce that Sandy McClure of Creede, Colorado, USA, has advanced to the company rank of Elite Pro 7.*
Sandy joined the company in August of 2019, after over 6 years of network marketing experience with another organization. Sandy worked as a teacher for 26 years before she began her journey with network marketing—a surprising path she did not expect to take.
She made her first direct sales purchase solely to support her niece, but quickly fell in love with the products and continued to buy them. Over time, her niece repeatedly urged Sandy to sell the products herself, an invitation that was so unappealing to Sandy that she threatened to stop buying altogether if her niece made the suggestion one more time.
"I was a total skeptic. It didn't seem like a credible thing, because I didn't know what I didn't know. I wasn't open minded and there's a lot of people out there like me. Part of my success lies in that, that I don't discount the fact that people will feel that way. And I don't get offended by that, because I was one of those people."
Finally, she began to see for herself the opportunities available in direct sales, and in January of 2013 she began her own journey with network marketing. Over the next 6 years, Sandy established a successful business, but then the company's compensation model unexpectedly changed in 2019.
"It was a horrible, awful time for everybody. Some people caught wind of the compensation change early on, and many people jumped ship. I was one of the top leaders, and it was really hard to not just follow what everyone else was doing. But I didn't get caught in that trap. For me I just had to sit back and wait, and decide what I wanted to do. I got offers that were unbelievable, but for me I just couldn't—I couldn't put my name on those products." 
It was about that time that she was introduced to LifeVantage.  As a breast cancer survivor, Sandy understands the importance of good health and nutrition, which led her to start taking the LifeVantage® products. She fell in love with the products, and 4 months later she started her own LifeVantage business. Only 8 months in, she has achieved the rank of Elite Pro 7.*
For Sandy, the most important thing is truly believing in the products she is promoting, and LifeVantage makes that possible. She prefers the products over anything she has ever found in the store, and she also loves that they are evidence based, backed by peer reviewed studies.
She maintains her focus in building a team and growing her business because she wants more people to have these products. Sandy is so confident in the products that she does a lot of sampling so others can see for themselves, and this is largely how she has built her business.
"I am really careful about what I put my name on and what I put my stamp on. It's important to me. I'm with LifeVantage 100% for the product."
Sandy is also proud to pursue her LifeVantage business alongside her three adult daughters, who have also established successful businesses with the company.
About LifeVantage
LifeVantage Corporation (Nasdaq: LFVN) is a pioneer in Nutrigenomics – a new science dedicated to biohacking the human aging code. The Company engages in the identification, research, development, and distribution of advanced nutrigenomic dietary supplements and skin and hair care products, including its scientifically-validated Protandim® product line, Omega+ and ProBio dietary supplements, its TrueScience® line of Nrf2-infused skin and hair care products, Petandim™ for Dogs, Axio® Smart Energy Drink mixes, and the PhysIQ™ Smart Weight Management System.
LifeVantage was founded in 2003 and is headquartered in Salt Lake City, Utah. For more information, visit www.lifevantage.com.
Recommended Distributors LifeVantage