Sarah And Chris Smith Advance To Elite Pro 7 Rank At LifeVantage
August 4, 2020
By Team Business For Home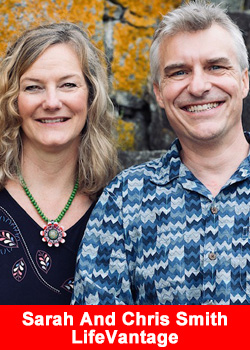 LifeVantage is proud to announce that Sarah and Chris Smith of Auburn, Maine, have advanced to the company rank of Elite Pro 7.
The couple joined the company in September of 2012, while simultaneously maintaining careers in the health and recreation industries. Sarah, originally from Towson, Maryland, touts a diverse background. Her experience includes completing a BS in Business, serving as a Peace Corps volunteer in Haiti, and building three successful massage therapy practices from the ground up.
Chris is a lifelong endurance athlete with professional experience as a general contractor, a ski patroller, and an artillery gunner for the US Forest Service doing avalanche control work.
The couple was first introduced to LifeVantage in 2012, and they were immediately excited about the product line, which offered patented, science-backed products and a first-to-market technology.

The timing was opportune, as an unexpected health crisis had left them out of work. Despite adequate savings and healthcare insurance, they found they were unprepared to weather this life event.
They chose to partner with LifeVantage, and saw it as an opportunity to have a positive global impact while also achieving their immediate and long-term goals. With the LifeVantage business and lots of hard work, they were able to find both a sense of purpose and a vehicle to help them achieve their financial goals—something they are now also able to offer other families.
Despite the challenge of simultaneously maintaining their other work as they began their LifeVantage journey, the couple made sacrifices to grow their LifeVantage business. Chris continued to work 50-80 hour weeks in the ski industry, Sarah ran her massage business, and together they balanced building teams in other markets while also being present at home to parent their daughter, Rose, and maintain the household. The couple states:
"In LifeVantage specifically, we learned through personal growth and creative thinking how to build a business with limited time and limited money. This meant traveling to open new markets, getting to events … and trusting that our actions and vision would eventually produce the necessary sales results."
Sarah and Chris say that they are grateful beyond words for the opportunity LifeVantage has provided. Especially at present, with widespread shutdown due to COVID-19, income from their massage and ski industry endeavors has dried up. Their years of dedicated effort within LifeVantage paved the way for a seamless and stress-free transition into network marketing as their main source of income.
"If we had not sacrificed these last seven years to build this business, it [is] difficult to imagine where we would be during these times. LifeVantage has given us a brighter future, period. To make an impact in the lives of others, activating the dreamer within, is an incredible gift."
About LifeVantage
LifeVantage Corporation (Nasdaq: LFVN) is a pioneer in Nutrigenomics – a new science dedicated to biohacking the human aging code. The Company engages in the identification, research, development, and distribution of advanced nutrigenomic dietary supplements and skin and hair care products, including its scientifically-validated Protandim® product line, Omega+ and ProBio dietary supplements, its TrueScience® line of Nrf2-infused skin and hair care products, Petandim™ for Dogs, Axio® Smart Energy Drink mixes, and the PhysIQ™ Smart Weight Management System.
LifeVantage was founded in 2003 and is headquartered in Salt Lake City, Utah. For more information, visit www.lifevantage.com.
Recommended Distributors LifeVantage