Seacret Direct Launches Cutting-Edge Bio Shield Complex Skincare
August 6, 2020
By Team Business For Home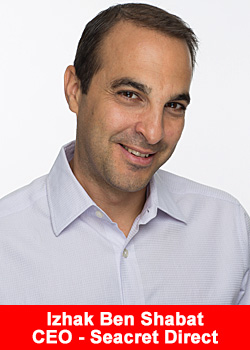 Patent-Pending Skincare regimen brings together ancient wisdom of fermentation and nature's most resistant forms of life with the latest technology for a profound beauty experience.
With over 20 years of expertise and mastery, Seacret Minerals from the Dead Sea unlocks the potential of this legendary beauty spa that seduced Cleopatra.
Enter the realm of sacred skincare. Bringing together the ancient Eastern wisdom of fermentation to optimize results with advanced western technology, Seacret creates the ultimate effective skincare indulgence.
The unique, patent pending formulation introduces Red Algae, the only living organism in the Dead Sea. "We have expertise in cultivating minerals and mud from the Dead Sea for our skin and body care products. Now, we harvest the powerful red algae to bring this leading-edge formulation for beautiful looking skin,"
says Izhak Ben Shabat, Founder and CEO.
Bio Shield Complex by Seacret Minerals from the Dead Sea is the culmination of 20 years of experience dedicated to bringing you a remarkable skincare experience. It is a new approach for skin care products working in synergy as an antioxidant beauty shield to address modern challenges of stress and environment on the skin.
Bio Shield Complex brings together three complex ingredients inspired by nature's most resistant form of life: Red Microalgae, Beta Glucan and FERMENT 21TM for a synergistic skincare regimen.
Fermentation is an ancient scientific process that increases the efficacy of ingredients. This method has been used in various industries with great outcomes and it has influenced the cosmetic industry as well. FERMENT 21TM is the Seacret patent-pending bioconversion of microalgae Dunaliella and Dead Sea minerals into a skin-transforming beauty treatment.
"This fermentation process allows us to optimize delivery of the unique Dead Sea minerals to support healthy-looking skin," says Ben Shabat.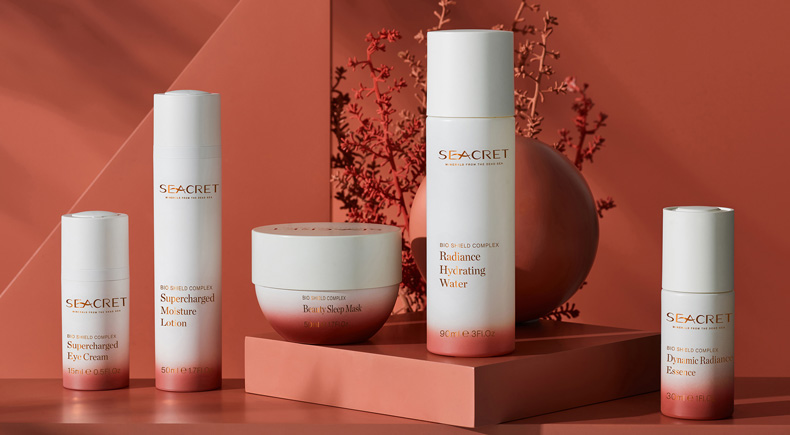 Preliminary tests done on Seacret FERMENT 21TM yield amazing beauty results such as:
17% increase in skin barrier function
56% optimization of collagen expression
15% increase in skin turnover
Red Microalgae Dunaliella Salina is found in the Dead Sea where few organisms can survive such highly saline conditions. Its strong antioxidant properties create a shield on the skin.
Beta Glucan has been shown to deliver deep hydration and helps protect against moisture loss, defending the skin from environmental stressors that can cause visible signs of premature aging.
Shield Your Beauty. Bio Shield Complex for an Everlasting Youthful Complexion.
Seacret Bio Shield products are clean, hypoallergenic and suitable for sensitive skin. "We used only vegan and safe ingredients, with a natural fragrance, natural color, and a natural preservative system,"
reports Ben Shabat. Plus, Bio Shield products are produced using clean manufacturing processes.
"It is our focus to create clean, safe and effective products to support a healthy lifestyle," says Ben Shabat.
The Bio Shield Complex skincare line includes:
Radiance Hydration Water – soothes and saturates for dewy skin
Dynamic Radiance Essence – revives radiance, helps smooth fine lines
Supercharged Moisture Lotion – supports skin moisture barrier
Supercharged Moisture Cream – boosts skin renewal with long-lasting moisture
Supercharged Eye Cream – helps brighten delicate skin
Beauty Sleep Mask – restores, relaxes, and revitalizes the skin overnight
Products are designed to be layered for a complete beauty routine unlike anything else on the market to date. "We believe that each formula and product support and enhance the other in a kind of skincare synergy," says Ben Shabat.
About Seacret Direct
Founded in 2005, Seacret Direct is an expert in Dead Sea skincare. Seacret develops, manufactures and sells premium nutrition and skincare products that combine Dead Sea minerals and other clean ingredients with new technologies and scientific breakthroughs. Manufactured in Israel and headquartered in Phoenix, Arizona, Seacret skincare products offer mineral combinations found only in the Dead Sea.
Seacret products were sold in many countries before the company adopted the direct selling business model in 2011. Since then, Seacret has been recognized on the DSN Global 100 list for its global impact of the industry on economic and social realms.
Learn more online at seacretdirect.com.
Recommended Distributors Seacret Direct