Velovita's Sample Program Skyrockets Enrollments
August 13, 2020
By Team Business For Home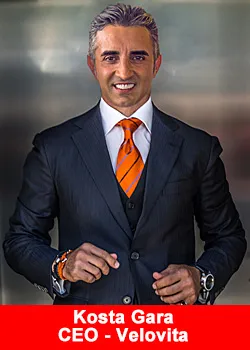 Velovita's success has been based on its flagship product, a super nootropic called Brān Reimagined, pronounced [breyn], which is making waves globally due to the instant effects of its nanotechnology – replacing coffee and energy drinks in thousands of households.
Since its inception in May of this year, Velovita has posted impressive growth, becoming one of the fastest-growing companies in direct selling, launching four countries in less than ten weeks; USA, Canada, Japan, and Mexico.
Here's why: there has been a global shift where people need a little 'pick me up' when it comes to their mindset, and Velovita's super-stacked nootropic is helping people create a shortcut, or what's known as a bio-hack, to reach their way into a state of flow – better mood, laser focus, and boosted energy.
Velovita pre-launched with a 'try before you commit' program, which has been a success in Member conversions.
"Because of the nanotechnology, many people experience its effects in as little as 15 minutes. Sampling has been the backbone of my business as consumers these days are a try before you buy and are looking for that instant gratification."
stated Kristen A., Velovita Member
That's why a single serving can immediately give someone a feeling of happiness and mental boost, which are why samples are an ideal way to try this serum rich in nutrients. The sleek part of this super nano-nootropic is that it fits conveniently in your pocket, it's fun to consume, it comes in 3 delicious flavors, and there are specific long term cognitive effects when taken daily.
"I'm down to one cup of coffee per day instead of a pot and a half!"
Joe K., Velovita Customer
Dropshipping from Velovita's in-house warehouse directly to their Member's prospects makes it effortless to send V-Packs (sample packs) to those that are distant. Their V-Pack comes wrapped in a professional trifold brochure that includes all of the necessary marketing and information. Unlike many, it doesn't only contain one sample; it contains five epic days of feeling on top of the world.
Members can also professionally assemble their V-Packs right from their inventory. These are great to carry around and hand out to friends and family at gatherings, at work, or even mail out as gifts,
The retail component of Velovita's business model allows anyone who would like to add this delicious cognitive supplement to their daily routine without the pressure of becoming a Member. It's been supporting people with their mood, energy, mindset, and giving them that extra boost without the coffee jitters or the sugary-packed energy drinks.
About VELOVITA
Founded on 90+ years of operational and field success, VELOVITA is set to become a global leader of innovation in the field of nanoceuticals, community expansion, support, social selling, and education for the new world entrepreneur. Their mission is to provide an ecosystem of inspiration, education, and life enrichment. Velovita has a singular focus on the individual to increase their daily performance both mentally and physically.
For more information on VELOVITA, please visit Velovita.com or Velovita's Facebook page. You may also contact us at [email protected] To join the new movement, click here for the Velovita Member Rewards. We know you'll #LOVIT!
Recommended Distributors Velovita