Daniel Visser From The Netherlands Achieves Crown Diamond Rank At Success Factory
September 15, 2020
By Team Business For Home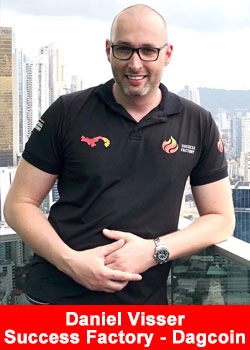 Daniel Visser, from the Netherlands, achieves the Crown Diamond rank with Success Factory and enters the top 50 of highest income earners  in network Marketing with a monthly income of 278.000€ / $300.000.
Daniel Visser is a Network Marketing Professional with 18 years of experience in the network marketing industry. Daniel is a proud member of the Success4All team, the international team led by Igor E. Alberts and Andreea Cimbala.
Representing the Success Factory company as an independent marketing associate and honoured Circle of Champions member, Daniel has been working on its development relentlessly from the very day he joined the project, which was more than two years ago. Since then, he has come a long way and can now boast the prestigious rank of Crown Diamond. Daniel comments:
"I am sincerely grateful and humbled by this great honour. I realize that the Crown Diamond rank could not have been achieved without the help and support of my upline and, especially, the hard work of our great international team from countries where the life standard and circumstances are way more challenging than in my country, the Netherlands.

But also the support of my beautiful wife, I couldn't have done it without her. Achieving this position has opened new doors to more possibilities. It is a great example to inspire people: if you keep working hard, with the right work system and a tremendous drive and hunger for success, you can create everything that you dream about."
Earlier this year, Daniel achieved the Black Diamond rank, whose recognition and the award were meant for this summer, at a big international event, but the circumstances resulted somewhat challenging in this respect. But there is no challenge too great for Success Factory and no member must remain without recognition, so the company turned the situation around and organized the first Virtual Event in July 2020. Over 100 thousand people attended the event digitally, and it proved to be a great success.
"It was so exciting to take part in a virtual event. And the most amazing thing that I was promoted live as a new Black Diamond and got my award, a Mercedes S. The whole team congratulated me, they were really happy for me, and I was happy for them. Now I'm a Crown Diamond and I can't wait to see what the recognition will be like!"
When asked about the path travelled and obstacles overcome, Daniel admits:
"There is no secret, really. Through my experience in the industry, I learned that success can only be found outside your comfort zone. There is a well-known quote that I always use for myself in the face of any challenge: "Don't wish it was easier, wish you were better", by Jim Rohn. When I really understood its meaning, my life changed drastically."
Daniel is now completely focused on the Success Factory opportunity and his personal vision and the future of the network marketing industry, but he also explains that he is developing strategies to create strong leadership in various parts of the world, not just in the Netherlands.
"When you reach a new rank, you have a responsibility to help as many people as possible become better and that they grow in this industry and achieve their goals in life.

We are discovering people with enormous potential and giving them the tools to make the most of it. Together with the Success4All team, we are very focused on developing people on the team and travelling worldwide to provide support. There is nothing better in this business to see other people succeed."
About Success Factory
Success Factory is a network marketing company whose main goal is the promotion of human potential and supporting latest technology, relying on innovative and creative proposals that bring real solutions to the lifestyle in the 21st century.
The product catalogue of the company is mainly digital, covering the spheres of technology, education, sales skills and financial expertise. All that always improving quality, usability and exceptionality and offering its sales force different products to work with. The most outstanding items within the extensive ecosystem of the company are Forex Insiders, B.A.N.K., Dagcoin, and Dagpay.
Success Factory has come to be the company that transforms network marketing, being, above all, a company that detects, trains and empowers the sales professionals that will be the great legends of the industry tomorrow. Find more information on the company's website www.successfactory.com.