Jenny Crane Achieves Elite Pro 8 Rank At LifeVantage
September 29, 2020
By Team Business For Home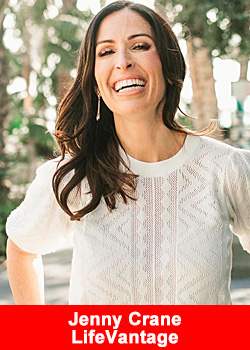 LifeVantage is proud to announce the advancement of Jenny Crane to the company rank of Elite Pro 8.
Always fuelled by an entrepreneurial spirit, Jenny dropped out of college with the aim to start her own business. By age 26 she accomplished her goal and established a successful mortgage company.
However, when the housing market crashed in 2008, she lost the company and her family's livelihood. Despite the trial of losing everything, this hardship led her to the network marketing opportunity with LifeVantage.
"We were on our hands and knees praying for an answer. I had no college degree and nothing to fall back on, so I knew I would have to find another way.

I have always felt I was different and capable of thinking outside of the box; I just didn't know what that would look like. I felt helpless until LifeVantage came along and gave me a way to challenge myself, grow, and live life on my terms."
She is particularly grateful to her husband, Nick, and 2 boys, Dylan and Asher, for their unwavering support and patience as well as to her mentor and sister-in-law for introducing her to the company because the LifeVantage opportunity has transformed life for her family. The journey has not been quick or easy, but her hard work has allowed her to continually climb to where she is today.
"My success with LifeVantage was not a skyrocket to the top or fast by any means. I have been with the company for over eight years and almost quit many times along the way. I actually told my husband, 'Maybe I am not cut out for this. Maybe I just don't have what it takes to be successful.'" 

"My defining moment happened in March of 2017, when my good friends and business partners reached the rank of Elite Pro 5. This, combined with seeing other people's success on social media, motivated me. I made a newfound commitment to myself and my team.
I knew if I were to quit, I would not only break a promise to myself, but a promise to them. I remember making my first post on social media and was so unsure of what to do, but these platforms have transformed the growth and success of my team. One year after beginning my journey down the path of building my brand and using attraction marketing, I hit my first Elite rank with LifeVantage."
Jenny stated.
About LifeVantage
LifeVantage Corporation (Nasdaq: LFVN) is a pioneer in Nutrigenomics – a new science dedicated to biohacking the human aging code.
The Company engages in the identification, research, development, and distribution of advanced nutrigenomic dietary supplements and skin and hair care products, including its scientifically-validated Protandim® product line, Omega+ and ProBio dietary supplements, its TrueScience® line of Nrf2-infused skin and hair care products, Petandim™ for Dogs, Axio® Smart Energy Drink mixes, and the PhysIQ™ Smart Weight Management System.
LifeVantage was founded in 2003 and is headquartered in Salt Lake City, Utah. For more information, visit www.lifevantage.com.
Recommended Distributors LifeVantage