MLM Leader Ram Singh From India Joins QuiAri
September 15, 2020
By Team Business For Home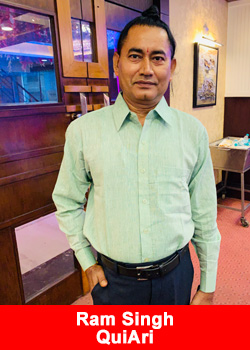 QuiAri Promoter, Ram Singh, from Patna India, lived a simple life before joining the network marketing industry 11 years ago. He was a teacher working 9-to-5 hours and earning average pay. Ram wanted more – an extraordinary life and an extraordinary career. While the direct sales industry had been very good to him, Ram felt like he could do even better with more freedom to grow his business.
"As a teacher, I enjoyed helping people, but my opportunities were limited. The MLM industry has helped opened a few doors for me, but I'm really excited to be a part of QuiAri, because now every door in the world is open,"
stated Ram Singh.
With products shipping to over 200 countries worldwide and 11+ offices located around the globe, QuiAri is the #1 Global Business Opportunity with the fastest payout in the world. The opportunities for Ram and all QuiAri Promoters are endless.
"QuiAri has the most aggressive global expansion business plan I've ever seen, but I think it's absolutely perfect. I'm still an educator at heart. I wanted to learn everything I could about these products and the opportunity before joining. I was amazed every step of the way.

From the rich history of the Maqui berry to the unbelievable flavor of the products to the opportunity to earn industry-first Same Day Pay, QuiAri is the best opportunity in the entire MLM industry. I have everything I need and more to achieve my goals,"
Founded in October 2019, QuiAri was the 1st company to introduce Maqui, the world's new #1 superfruit, to the global marketplace. Harvesting and processing the Maqui berry has proven to be a very inspiring process. Found only in the remote Patagonia region of Chile, one of the most pristine places on Earth, the Maqui berries are harvested only by local Mapuche Indians, who for centuries have considered Maqui sacred.
Once the berries have been harvested, they must be immediately delivered to the processing facility to preserve their freshness and nutritional value and then added to QuiAri Shake and Energy products along with MaquiX®, QuiAri's proprietary extract that boosts the antioxidant power of the Maqui berry. Ram tried the products and experienced the benefits of the world's #1 super fruit Maqui.
"The products provided me with immense energy and I was able to walk and run more. I also lost 28 pounds. I haven't found any other product that matches the nutritional levels of QuiAri products. I've been sharing my story with everyone I know and following QuiAri's step-by-step guide to duplication playbook and I'm getting results. My business is growing like a vine all over the world,"
QuiAri's generous compensation plan pays Promoters within 5 minutes of each sale. Plus, special incentives like a $500 USD "Speed Bonus" awarded to those that build their network quickly, in the first 30 days, only contribute to Ram's success in the field.
Founder and CEO of QuiAri, Bob Reina, is responsible for creating a compensation plan that has been the envy of the industry. QuiAri holds the title for fastest paying, fastest cycling binary, and one of the highest paying plans in the industry. Plus, Bob is known for adding exciting incentives to help QuiAri Promoters achieve their dreams faster.
"There is no shortage of excitement here at QuiAri, that's for sure. We have some of the highest-earning MLM leaders on the QuiAri team serving as mentors to Promoters new to the industry or with only a few years of experience. Ram is a seasoned industry veteran, so he's been helping build teams locally in India and throughout other neighboring countries.

Promoters around the world love getting paid within 5 minutes of every sale. When people rank up, I want to be one of the first to congratulate them. I think it's one of the reasons why we have such a strong global team and can accomplish a lot very quickly, we are one family."
stated Founder and CEO, Bob Reina.
In looking ahead to the future, Ram sees himself leading a massive global team and helping them achieve their personal and business goals.
"We have the #1 products, the #1 opportunity, #1 executive team in the industry, and we're just getting started.  There is an opportunity to reach for the stars at QuiAri that you rarely get in the MLM industry, or any other industry for that matter,"
said Ram Singh.
About QuiAri
QuiAri is the #1 health and weight loss movement in the world today. Featuring exclusive, breakthrough products (QuiAri Shake and QuiAri Energy) and a one-of-a-kind 90-Day Kickstart Challenge, people everywhere are losing weight, boosting their energy levels, and improving their health. What started as an idea has now become a worldwide phenomenon, gaining a passionate following in over 200 countries.
But that's not all! We boast an exciting opportunity that pays people to promote the Challenge. Featuring industry-first, state-of-the-art payment technology, Promoters can earn Same Day Pay – that's commissions paid within 5 minutes after every sale. Combining unrivaled products with the fastest payout, the fastest cycling binary, and one of the highest paying compensation plans in the industry, there's no doubt QuiAri is helping people live healthier, happier lives. To learn more, please visit quiari.com.
These statements have not been evaluated by the Food and Drug Administration. These products are not intended to diagnose, treat, cure or prevent any disease.
Income Disclosure Statement
Please note the QuiAri business opportunity offers unlimited income potential. However, QuiAri makes no guarantee of financial success. Success with QuiAri results only from successful sales efforts, which require hard work, diligence, skill, persistence, competence, and leadership. Your income will depend upon how well you exercise these qualities.
As QuiAri is in its first year of business operations, we do not have sufficient statistical data to prepare complete, first-year income disclosures. A more detailed survey will be conducted after our first year of business.
Recommended Distributors QuiAri