Nathan Garrett Achieves Platinum Ambassador Rank At Kuvera
September 4, 2020
By Team Business For Home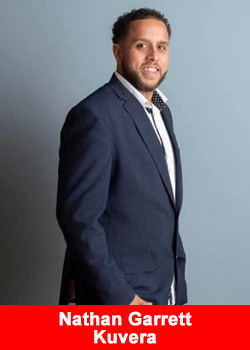 When Nathan Garrett was 23 years old, he was playing basketball with some friends at the gym.
While playing, he tripped and hit his head. After routine concussion tests in the emergency room, his doctor discovered that Nathan had a brain tumor. At that point in life, Nathan made a promise to himself that if he made it through brain surgery, he was going to impact thousands of people across the world. He had no idea that he'd fulfill that promise through Network Marketing.
Nathan is from Cleveland Heights, Ohio and grew up in a very educated family. His mother went to Notre Dame University and his grandfather went to an Ivy League school. He was raised to always take his education seriously so he can get a good job. Ever since he was a little boy, Nathan wanted to play basketball in the NBA. When he was in college, he injured his knee and knew that dream would never be fulfilled.
As Nathan started his career in Network Marketing he was about to become a new father. Now, he is a father to a beautiful fifteen year old daughter and an eleven year old son who is non-verbal autistic. One thing Nathan loves about his networking business is that he is able to work from home, and has more time to spend with his family.
Nathan joined Kuvera three years ago. He said,
"I chose Kuvera because I loved the concept of making my money work through education, technology and lifestyle services. I wanted to have a platform where everyone can win, even if they don't immediately have the skills to build a huge team. I also wanted a way that a part time person could win on a full time level."
When Nathan first joined Kuvera, he didn't quite understand how money worked or how to get his money to work for him. With Kuvera and his AMG family, he quickly immersed  himself in the business and has found great success. Nathan has three favorite Kuvera products. CRYPTOelite, because he loves seeing the excitement his team has with its performance,  TRAVELpro, because he loves to travel and takes advantage of the discounts TRAVELpro offers, and WALLETpro because he loves getting up to 5% cash back on what he spends.
Nathan is a role model when it comes to enduring trials and making the best of every situation. While going through brain surgery and learning how to raise his autistic son, Nathan was determined to create financial freedom that would allow him more time to do the things he loves with the ones he loves.
Nathan perseveres day after day. With his strong work ethic and competitive nature,, Nathan is now a successful six figure earner. His current rank at Kuvera is Platinum Ambassador. Nathan is extremely grateful for the success he's had. He said,
"The things that help me to have success in Kuvera are: my incredible AMG FAMILY, our simple duplicatable system, and Kuvera's amazing corporate team.. They are always supportive and very transparent. All of this makes for an incredible business environment."
After years of experience Nathan has learned a few important lessons. He said,
"One thing I learned about this industry is that consistency is key. I also learned that personal development is a must. Having the right mentorship in this industry is very helpful. I am guided by the right people and being coachable has led me to be where I am today. I love that I am able to work from home and have more time to spend with my family."
Nathan Garret has had his fair share of adversity throughout life. Luckily, with his "you can't change a problem with the same mindset that created the problem!" attitude, he has turned his adversity and misfortune into some of his wildest dreams.
Nathan has already achieved so much in the business, but he's not done. His next goals are to become one of the top 5 income earners in North America and to help one hundred families become six figure earners. He strongly believes that when you manifest the vision you have in your mind, and you're willing to take action, the impossible becomes possible.
About Kuvera
Kuvera, a subsidiary of Investview, delivers financial education, technology and research to individuals through a subscription-based model. Kuvera provides research, education, and investment tools designed to assist the self-directed investor in successfully navigating the financial markets.
These services include research, trade alerts, and live trading rooms that include instruction in equities, options, FOREX, ETFs, binary options, crowdfunding and cryptocurrency sector education.
In addition to trading tools and research, Kuvera also offers full education and software applications to assist the individual in debt reduction, increased savings and budgeting.
Each product subscription includes a core set of trading tools/research along with the personal finance management suite to provide an individual with complete access to the information necessary to cultivate and manage his or her financial situation. For more information, please visit kuveraglobal.com