Network Marketing Leader Peppe Lucio From Italy Joins VYVO
September 16, 2020
By Team Business For Home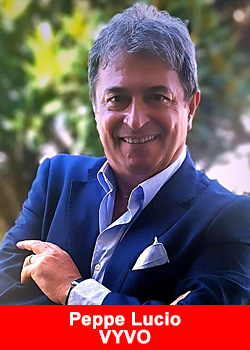 VYVO momentum continues global expansion, along with a stellar Italian talent, Peppe Lucio, joining the smart generation.
Continuing from the successful expansion that VYVO has been enjoying, VYVO's momentum drives it towards the Italian Market. VYVO's economic and technological infrastructure continues to seamlessly lend itself to be uniquely successful as an innovative platform in the global stage of direct sales.
It's the compelling vision and business opportunity brought by VYVO that keeps resonating with enormously experienced and talented network marketing leaders.
One such Network Marketing giant joining VYVO's Smart Generation is Peppe Lucio. A family man, loving husband, and father, an incredibly talented football player that found his passion in Network Marketing. His love for the wonderful world of relationships and direct sales led him to dive in fulltime to follow fantastic economic and personal growth opportunities.
 Peppe has vast years of experience in the field. He served both in his home country and abroad with dedication and commitment, namely in Canada for years.

He was achieving excellent results over the years while attaining remarkable communication skills, and public speaking drove him to successful roles to join corporate management for a number of years.
Following the changes in our world woke up a desire in him to return to the field. Having encountered the materialization of the business opportunities in VYVO and fulfilling his priorities of creating opportunities for him and others, he joins VYVO's Smart Generation to prepare a promising launch in Italy alongside company leadership.
With VYVO's strategic expansion planning, VYVO is proud to warmly welcome Peppe with his unyielding dedication, experience, and proven commitment. VYVO expects nothing short of yet another successful expansion, as VYVO momentum keeps rising in the latter part of 2020 and together continue Making Life Wonderful for thousands of people.
About Vyvo Inc
We are a technology and network marketing company, using technology to create innovative solutions for the personalized health and wellness market worldwide. We are focused on developing consumer-oriented products that protect, monitor and empower people to improve their health through daily knowledge and informed choices. We create customized solutions to help our customers manage their most important asset, themselves and their life.
Our technology driven mission matches our network marketing soul. We are all about expanding concepts of personal growth and development, not only focusing on health but also on prosperity and economic wellbeing. For more information, please see www.vyvo.com