Neworkom Appoints Walter Presutti As Vice-President
September 29, 2020
By Team Business For Home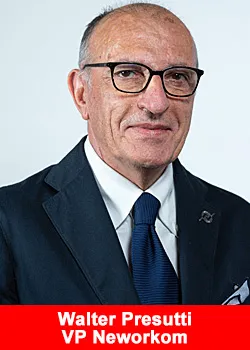 Neworkom continues its reorganisation by strengthening its staff and implementing strategies, to enhance all its resources.
With this in mind a few months later after he joined as Head of the Academy Program, Walter Presutti becomes the new Vice President of the Neworkom Network Section. At the same time, Max Messa will focus on the development of the inter-group Coaching, with special focus on the leadership development of the new Digital Consultants.
Walter Presutti,  from almost 30 years has worked in the Network Marketing world, held many prestigious international positions in many Companies, before joining Neworkom. With an experience in all continents and a history of hundreds of thousands of people in his networks, Walter is the best person to accompany the Digital Consultants in this path.
Walter Presutti stated:
"I am really honored, it is useless to try to hide this emotion. But it is not the title that gives me the energy, but the project that I have the honor to represent. Together with all the Co-Founders and the Digital Consultants we will develop the project  to the maximum to create the reference point in the Network".
President and Founder Andor Viragh stated:
"Neworkom is clearly expanding,I have known Walter for a lifetime and I know the prestige that he will bring by his new position as Vice President. He is a very professional and experienced person and I'm sure he will bring a new type of culture to our Network.

At the same time let me thank Max Messa for his contribution in this delicate period of transition. He has done his Vice President duties really well, despite carrying the weight of online and offline coaching. Now he can finally be able to devote his professionalism to the personal development of leaders. "
Neworkom is continuing to support Ulyfe, the Social Media based on the concept of Sharing Digital Economy and is developing numerous innovative projects.
About Neworkom

Neworkom™️ was founded in Malta in 2019 by a group of entrepreneurs with twenty years of experience in finance, networkingand community building. The need to build a pillar of excellence that brings together experts in various sectors to drive innovation, was the spark that gave rise to the concept of New Work and Communication, Community, Commerce. A place to host the dreams of others, making them come true.
Neworkom seeks, in the present, the opportunities of the future, providing people with concrete ideas to improve their lives. The ultimate goal is that the opportunities offered by Neworkom™️ can bring inspiration and innovation to everyone in the world. for more information please visit www.neworkom.com
About Ulyfe
Ulyfe™️ is a 2nd generation social network, based on a community built in Digital Sharing Economy. It is a protected environment, designed in blockchain, where anyone with a talent, who wants to express himself, exchange goods and services, whether private or professional, can find his space, online or offline, starting from the home to reach the global audience.
This starting from a specific place, a geolocalized map that starts from where you are, all around you. A part of everything that this economy generates is distributed among the members of the community. Access is possible from any device and you can be part of it by following the Affiliate Marketing system: it is only thanks to an invitation that you can be part of this community. For more information please visit about.ulyfe.com