Ray & Jessica Higdon Are Announcing The Virtual RankMakers LIVE Event
September 10, 2020
By Team Business For Home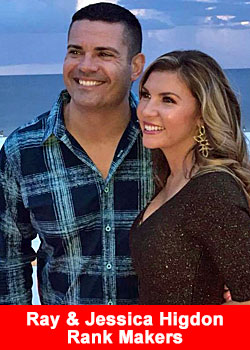 Ray and Jessica Higdon are the founders of the #1 community for Network Marketers, RankMakers and on October 8-10th they are holding their RankMakers LIVE Social Media Super Summit in a Virtual Experience you will want you and your team to be apart of.
In the last two years their RankMakers have brought in over 208,000 new customers, over 48,000 new reps and have achieved over 9,100 new rank advances in their respective companies yet Ray and Jessica feel this virtual experience will be the most results getting event they have ever done.
Ugh, another Virtual Event??
This one is different than your ordinary virtual event, Ray and Jess will be traveling to a multi-million dollar studio, the same studio that inspired Tony Robbins to build his (they are working with the same company and software that Tony recently used for his 23,000 person event) and there will be an incredible amount of LIVE engagement, breakout rooms, masterminding and networking.
People all over the world are going to tune in LIVE to catch the speakers and sessions as well as possibly win some cool prizes.
Who's Speaking?
The most incredible lineup of speakers are ready to rock the virtual experience, including but not limited to,
NY Times best selling author Chalene Johnson who is the only female to ever host two #1 infomercials and is an expert on all things instagram.
Tim Storey, personal coach to Oprah and someone that Robert Downey jr calls the "Comeback Coach".
Pete Vargas, world renown speaker coach who runs the speaking teams for Tony Robbins, Russell Brunson, Michael Hyatt and even the Higdon Group's speaking team and more.
To see the full lineup just visit RankMakersLIVE.com
The time to pivot is already past, now it is time to profit is the motto of the event Ray and Jessica are excited to help you not just navigate these weird times but seriously thrive! Visit RankMakersLIVE.com to see remaining ticket options and more details.
About the Higdon Group
The Higdon Group is passionate about helping network marketers not only reach their highest potential but equipping them at every level with the knowledge needed to succeed.  Headed by Ray and Jessica Higdon, the company lives and operates by their credo:
"Help people find freedom and fulfilment while always doing the right thing and striving for "awesomesauce."
It's this passion adopted by every team member working to support this vision that makes an impact both internally and externally.
From various content crafted and shared with global audiences daily to the appreciation and recognition of those striving for and achieving results, the Higdon Group is truly a unique company set apart in the world of Network Marketing.
The Higdon Group stands apart from other companies given their continued dedication to the network marketing industry delivering daily live content in a private membership based community called Rank Makers. Rank Makers gives network marketing  professionals a place for community and support and they are guided daily with live training by Ray Higdon and the help of his team members.
To learn more you can visit www.HigdonGroup.com