Somali Canadian Ifrah Hassan Celebrates $25,000 Month Club At Opulence Global
September 16, 2020
By Team Business For Home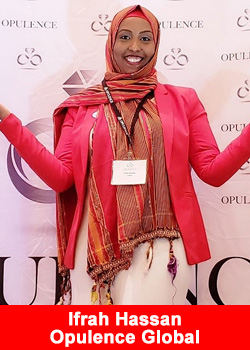 Ifrah Hassan stated upon her achievement:
Take every opportunity that comes your way. Grab it and run with it. That's my candid advice for others seeking to travel on the same blazing path of success that I am presently on with Opulence Global.
I have embodied and embraced this notion all of my life. When my family moved to Canada, after leaving Somalia and a temporary bout in Kenya, I took every opportunity offered to me as a new Canadian, including the great education and resulting freedom.
Not only did I run with it, but took flight, and soared. I did the same after acquiring much-sought after employment with the Canadian government and excelled on that front as well. Moreover, I put in immense time, over the years, into my community.
This included working with Somali youth, women, and girls. All of these, compound interested and morphed me into the astounding leader and force I needed to be as I entered the world of network marketing with Opulence Global 2 years ago.
About my journey to success:
Too often people think that with network marketing, they will strike it rich, easily, as though with the lottery, but it's not the case. The road to success is a process. It takes time, consistency. When I started, I worked full-time with my government job and put in 2-3 hours a day into Opulence Global during the week and full-time hours on the weekend. So, a total of 30 hours a week on top of my full-time job.
I had zero experience in network marketing and business when I started, but I applied myself to the system and to the tools offered to me. If you apply yourself, and are consistent, this system and its tool will never ever fail you. Stay humble, be coachable, be a student. That's what I learned.
How does it feel to see the seeds of my hard work, grow into golden fruit?
It feels incredible. It's one thing to read the perks of joining Opulence Global on paper, and all the promises. You know, believe without seeing it, and it's another thing to see it. It makes me want to work 10x harder. I want to help others, and I want to touch millions of lives, and I know that with Opulence Global that dream will come true. I am now a member of the 25K club, the Car Club/month, MGRS (Monthly Global Revenue Sharing) where I earn 3 shares as an LD3 (Lifestyle Director 3).
Last year I won a cruise as a LD2, where I was presented with an Expansion Award, followed by a Top 10 MGRS Qualifier Award as well, and I am now set for a LD3 exotic vacation to Dubai.
What are my goals and targets now?
To hit 100K/month within the next 12 months and I also, see myself in a different country and having an office with a distribution centre by this time next year.
Is Opulence Global pandemic proof?
Yes, it is. I was able to, not only, double, but triple my income, and leave my government job in the past 5 to 6 months (my peak momentum actually) while many others have either lost their jobs or their businesses were shut down due to COVID19.
Opulence Global provided industry's #1 MLM university provided by The Forensic Networker
We have by far the best training and most advanced tools and system in the MLM industry. We have weekly training programs done by our corporate team starting with our CEO/Founder Ramin Mesgarlou aka The Forensic Networker, SVP & Chief Designer Sanaz Hooman and Sales Development Manager Daniela Ferreira. We learn all about our revolutionary products and basic to advanced business skills.
It's because of this training that someone, like myself, with zero experience in the MLM industry is now able to lead a team of over 1000 in 25 countries, and earn $25K/month in just 2 short years. Anyone with MLM experience is shocked by our company's record setting E/D ratio (earning per distributor ratio) of over $25/distributor shattering DSA average of UP TO $1 per distributor.
After all its not the $25,000+ per month income that is unique in MLM, it is the small team of 1000 and short two years that is unique and important. Most people will not be able to create the team of 25,000+ which is the industry average to reach my income but almost anyone can create a team of 1000 to reach financial freedom with Opulence Global. All it takes is practice and the more you do something the better you get at it. For instance, I used to have problems closing, whereas at present, no problem, whatsoever. I, in fact, help others close now.
A leader not only shines a light to the way, but leaves a glittering host of leaders in their wake. That is something I aspire to do as I continue to maximize on opportunities thrown my way and as I continue to rise in my realm. I will claim my well-earned crown, but feed all those in my court happily and with love.
About Opulence Global
Established in 2005, we are Canada' s largest designer fashion house dedicated to design and manufacture products that impact your life. Our mission is to provide you with optimum lifestyle, optimum beauty and optimum health.
In lifestyle, we have revolutionized the fashion industry with new business paradigms along with our exclusive products. Whether you are looking for day to day accessories starting from $10 or leather goods and siledium pieces, we have it all preloaded into your online shop.
In beauty, our FERI Flawless raises the bar in the anti-aging skincare market. It has over 100 patents backing its premium grade raw materials. It is a professional grade regimen, ideal for all skin types, ages and genders who want to look and feel younger! FERI Flawless is so effective, our slogan is "give us 5 minutes and we will turn back the clock 5 years!"
Fountain of Life is a groundbreaking, patent protected natural health product, developed to protect and preserve your health. It is the most powerful antioxidant known in the world and you only need to take 10 drops per day. For more information please visit www.myopulence.com
Recommended Distributors Opulence Global