VABO-N Enters The Beauty Market With VABO-N Blossom
September 22, 2020
By Team Business For Home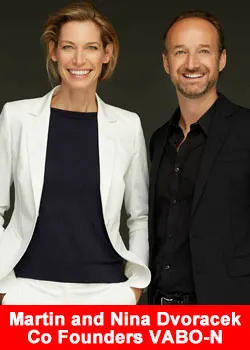 VABO-N is already represented in the health and fitness sector. But since the beauty industry is growing faster than ever before and is a billion Euro industry, it was inevitable that the network marketing company is going to conquer the beauty market as well.
"With VABO-N Blossom we're now conquering the beauty market and open a brand new and huge target group for our partners and their business",
stated Martin Dvoracek, CEO and co-founder of VABO-N.
VABO-N Blossom – The Beauty Optimizer for radiant skin, a firmer body, shiny hair and stronger nails –  is the newest product of the company. An instant drink that gets under the skin – for natural & long-lasting beauty.
By taking it orally, important beauty substances can be delivered directly to where they are needed via the blood.

The unique VABO-N Blossom 4D beauty formula which works on every dimension of the body (skin, hair, nails, connective tissue) acts as a shield while activating beauty from within, so you can radiate on the outside.
VABO-N has created a beauty drink that achieves more than conventional collagen drinks. The study-confirmed ingredients like specific collagen peptides, vegan hyaluronic acid, natural antioxidants, highly active superoxide dismutase (SOD) from dried tetraselmis chuii microalgae, lutein from marigold and much more have a remarkable effect on their own, but in the special combination as present in VABO-N BLOSSOM, they profit of  a potentiating effect.
Nina Dvoracek, co-founder of VABO-N stated:
Studies show that the ingredients support fewer deep wrinkles, more skin elasticity, better hydrated skin, more radiance and more even complexion but also stronger hair growth, shiny hair, stronger nails, firmer connective tissue, less cellulite, alleviation of acne and protection from damage caused by sunlight – and even much more.

VABO-N Blossom achieves all this and yet is without sugar, flavour enhancers, preservatives, gluten-free, soy-free, lactose-free, allergen-free and only with natural flavourings & colourants – and tastes delicious.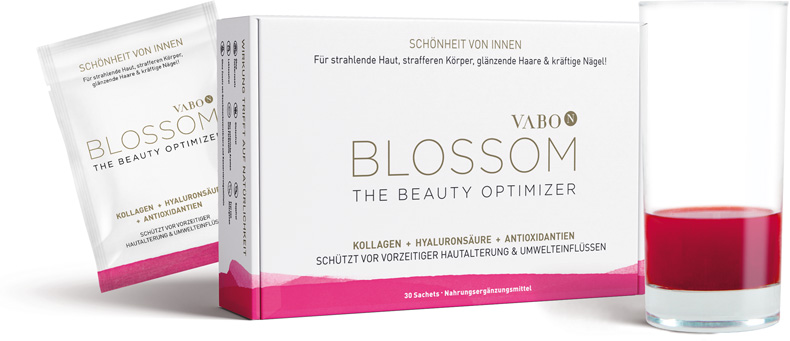 About VABO-N
VABO-N stands for "Valuable Body Nutrition". The Austria based company was founded in 2015 by Martin and Nina Dvoracek. The VABO-N founders – who earlier successfully built a 5000+ team in MLM – are convinced that for a better and happier life, we need both health and a certain income in order to achieve our goals and dreams. This is the basis on which VABO-N was founded: a network marketing company offering high quality nutritional supplements which have the power to sustainably improve the lives of many.
The company is currently not only shipping their innovative ALL-IN-ONE body nutrition products to Germany, Austria and Switzerland, but also to Hungary, Slovakia, Spain, Italy, Luxembourg, Liechtenstein, Belgium, France and the Netherlands – with more countries to come! VABO-N offers business opportunities in all of those countries. For more information please visit www.vabo-n.com.