APL GO – Anion DNA Drops, Are Attracting Many Customers
October 28, 2020
By Team Business For Home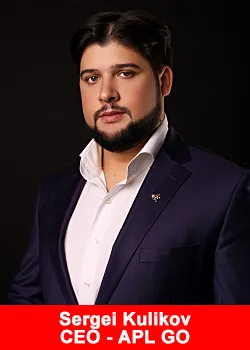 According to a APL GO Press Release:
In 2012, 24-year old Sergei Kulikov, founder op ALP GO, was preparing for an overseas flight. Sensing some anxiety, a friend offered him a small circular lozenge assuring him that it would help him relax. Within minutes he began to feel an unexpected calm come over him.  Sergei recalls this experience as a life-changing event.
Within a week's period of time, the young real-estate tycoon met with the scientists and acquired the company.
More importantly, Sergei, a former Network-marketing distributor now owned the ACCUMULLIT SA Technology enabling him to fulfil his lifelong dream of starting his own direct-sales company.
Anion DNA Drops are Powered by Nature
In order to understand the significance of the Anion DNA Drop, we need to understand the role of negative and positive ions. If you've ever felt anxious or stressed for no reason at all you might be suffering from what's known as positive ion poisoning. Positive ions are small molecules that have gained a positive charge.
Most forms of pollution, toxic chemicals, pollen, mold, pet dander, and other chemicals carry a positive electric charge. The downside of absorbing too many positive ions also include higher inflammation levels, mood swings, chronic pain, worsening allergies and more.
To offset positive ions, the cells in our bodies carry a negative ion charge. Negative ions (Anions) can negate the harmful effects of positive ions. If you have ever been next to a waterfall, in a densely populated forest, around crashing waves you have felt the calming effect of negative ions. Lightening strikes supercharge soil and deliver negative ions into plants.
Many people try to suppress how they feel by taking dietary supplements. Although their ingredients may be filled with valuable nutrients, the consumer does not know how long each nutrient has been separated from its source. As most people know, once you pick an apple, its deterioration process begins. Once a plant is picked or pulled from its natural source. Although it is still alive, when oxygen accesses it, it immediately begins to lose its nutrient value and healthy ions.
The Composition of an Anion DNA Drop Each Anion DNA Drop has a molasses, beet sugar caramel base. (1 g sugar) Through our proprietary ACCUMULLIT SA Technology, plant DNA is extracted from freshly harvested botanicals and infused into this base and then given a negative ion charge just as nature intended.
APLGO offers 15 unique drops, each recipe engineered to deliver the proper nutrients for a myriad of experiences which support the body's already normal, natural abilities:
BRN: Natural Coffee flavor (Activate concentration and focus) helps maintain already normal
Focus and concentration
Healthy cognitive function
Mental performance and alertness
ICE: Banana bliss (Carefree digestion)
A strategic formulation of beneficial whole foods that can maintain support for already normal digestive regularity:
Soothing occasional stomach discomfort
Health intestinal flora
Normal gastrointestinal response
normal bowel movements
ALT (Easy breathing)
BTY (Beauty inside and out)
GRW (Natural immune support)
GTS (Strength and stamina)
PWR Lemon (Power and vitality for active males)
RLX (Natural mental calmness and relaxation)
HPR (Gentle detox)
All Drops are 100% natural, non-synthetic Halal and Kosher Certified, ISO certifications and registered with the FDA. APLGO is proud to introduce a 100% delicious alternative in supplementation. No more choking down pills and capsules. Each drop has its own natural flavor ranging from orange to strawberry tea mate, from pineapple to black current berry.
APLGO owns the manufacturing facility to insure APLGO can keep up with demand, which has been challenging for most companies during this Covid- economy. Probably the biggest indicator of success is the product price point of $25 wholesale/$50 retail (US Market). Sergei believes that these price points will engage all-markets as people everywhere will enjoy a new delivery system to help improve their well-being.
Sergei Kulikov is confident this product line will reshape the supplement industry.
About APL GO
APL Go is an 8.5 year old company now in whisper launch in the US, Canada, Australia, Mexico and Peru. Our experienced corporate team is dedicated to your success and led by owner Sergei Kulikov, a successful, international network marketing leader. Our head office consists of six departments and sixteen divisions, with 14 global warehouses and more to come.. We consult with top-tier providers to ensure every aspect of the business is solid and scalable.
We believe the best companies create an amazing culture by providing  a positive atmosphere for every distributor and treat our employees and customers with respect. Founder and CEO Sergey Kulikov made his first $1,000,000 at 21 years of age. He is the author of an online educational platform used within APLGO since 2014 that tracks and manages Associate efficiency. For more information please visit us.aplgo.com
Recommended Distributors APLGO