Hamood Hussain Somaili From Saudi Arabia Achieves Black Diamond Rank At Success Factory
October 4, 2020
By Team Business For Home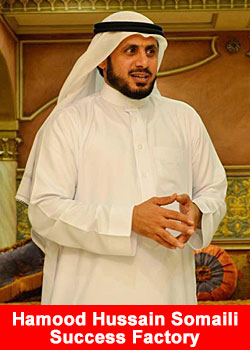 Hamood Hussain Somaili, from Saudi Arabia, is a professional networker from Saudi Arabia with 19 years' experience in the industry.
He is also part of the eminent international team Success4All, founded and led by the giants of the industry Igor E. Alberts and Andreea Cimbala. The Success4All work in the Middle East has been the talk of the town lately due to the tremendous impact the team is creating in the region, bringing more and more new Diamonds and changing lives of many families.
As it happens in many cases, Hamood's beginnings in the industry were not easy, but he admits that whatever challenges and obstacles the might have been, they have all been worth it so as to get where he is today:
"Network marketing for me is an advanced way of not only doing business, compared to the traditional industry, but also to live life. A lifestyle, better said. It can be difficult at the beginning of your career or first time in a new company, but you can see how many people are really involved and dedicated to what I can even call a cause, so it allows really rapid growth and incredible results. The leadership spirit pervades everything, and it teaches you an open mind and gives you creative ideas.
It is exciting how network marketing changes your relations with other people. My team mates are not only my colleagues, they are my family, and this family is spread all over the world. Anywhere I go, I know someone. Network marketing means freedom in all the aspects: financial freedom, the freedom of time, the freedom of relationships."
Hamood can be called a sensation of Success Factory. He only recently joined the company, in March this year, and after only 18 working days, he had already reached the Diamond rank. And exactly on September 1, Hamood celebrated his most recent achievement: the Black Diamond rank.
"I joined Success Factory in March this year by the invitation of a leader from the Saudi Arabia team, Mohamed Al-Zaatari, and immediately started working with the support of the teams from Jordan and Oman. What attracted me most in this company was the fact that it strives, and achieves, to correct the common mistakes that are present in most network marketing companies, thus improving the image of the whole industry. The leadership is very professional and with a high capacity for support and guidance.
I would also like to add that my Black Diamond rank means that people on my team are progressing and achieving new ranks. I owe my rank to the new Blue Diamonds from my team Hasna Barzek and Omar Al Zabidi, from Saudi Arabia, Bader Alsaedi,Ahmad Tabouk, Ahmad Baomar, from Oman, as well to their recent Diamonds: Hussein Alathathy, Mohammed Rajeh, Amin Abu Fayez, Hamad Suqour, Ahmed Barzeq, Muslim Hawass and Ahmed Al-Barami."
Hamood says that he hopes to achieve the next rank by the end of October, and these expectations are definitely not unfounded given his track record in Success Factory so far, as well as the fact that his team is spread over 15 countries, mostly in the Middle East, but also in India and Nepal.
"I have great loyalty to my team and to the Success Factory company. I would like to express my gratitude towards all the leaders who helped me in my career, the fantastic teams from Saudi Arabia, Jordan and Oman, as well as to our great global leaders Daniel Visser, Iulian Cimbala and, of course, the power couple Igor Alberts and Andreea Cimbala. It is only thanks to their support and guidance that I was able to progress so quickly and substantially and get where I am today."
About Success Factory
Success Factory is a network marketing company whose main goal is the promotion of human potential and supporting latest technology, relying on innovative and creative proposals that bring real solutions to the lifestyle in the 21st century.
The product catalogue of the company is mainly digital, covering the spheres of technology, education, sales skills and financial expertise. All that always improving quality, usability and exceptionality and offering its sales force different products to work with. The most outstanding items within the extensive ecosystem of the company are Forex Insiders, B.A.N.K., Dagcoin, and Dagpay.
Success Factory has come to be the company that transforms network marketing, being, above all, a company that detects, trains and empowers the sales professionals that will be the great legends of the industry tomorrow. Find more information on the company's website www.successfactory.com.
Recommended Distributors Success Factory