Noni By NewAge Announces Partnership With Celebrity Dancer JJ Rabone
October 2, 2020
By Team Business For Home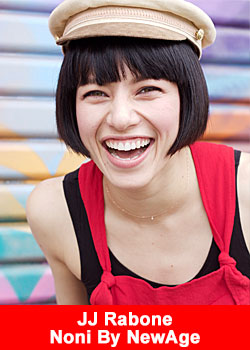 Noni by NewAge announced today that celebrity dancer and choreographer JJ Rabone will act as the global brand spokesperson for TeMana Shape and the 30-Day Shape Intermittent Fasting Challenge.
Highly charismatic and possessing a truly energizing personality, JJ is a professional dancer and choreographer who has appeared on the Emmy Award-winning TV Series Dancing with the Stars, So You Think You Can Dance and America's Got Talent. JJ has performed for recording artists Dua Lipa, Demi Lovato, Pink, Katy Perry, Eve, Paula Abdul, and more.
JJ will be formally introduced to the Noni by NewAge community and its Independent Product Consultants (IPCs) during the company's Global Business Summit taking place on October 7–8, 2020.
An advocate for intermittent fasting, JJ is a practiced believer in using this highly popular eating pattern to maintain muscle and promote overall health. For JJ, incorporating Shape Smoothies into her daily fasting regime is a natural fit when considering the product's many health and wellness benefits.
"Great nutrition with an active lifestyle goes hand-in-hand for me," says JJ.  "The optimized nutrition Shape Smoothies offer makes me feel confident that I am fueling my body what it needs.  I can't wait to dive-in and share my adventure!"
JJ will be inviting her followers on Instagram to share her journey as she embarks on the Shape 30-Day Intermittent Fasting Challenge. Follow JJ's progress on www.instagram.com/jjrabone.
 "We are so excited about this partnership with JJ,"
said Julie Garlikov, NewAge Chief Marketing Officer.
"JJ's continued success reflects her discipline to her craft, coupled with her hugely engaging personality, and we are thrilled to welcome her to the Noni by NewAge and Shape family.

We look forward to following her journey along with our IPC members and look forward to a bright future ahead."
About Noni by NewAge
An industry powerhouse since 1996, Noni by NewAge is the direct-to-consumer division of NewAge, a global healthy beverages and lifestyles company. Noni by NewAge is the world's premier noni company, and makers of the iconic superfruit beverage Tahitian Noni Juice.
With operations in over 60 countries, and a powerful portfolio of noni-based products, Noni by NewAge is driven by the desire to share the Power of Paradise with the world.
Recommended Distributors NewAge