Power Couple George And Vera Najjar Join Valentus
October 5, 2020
By Team Business For Home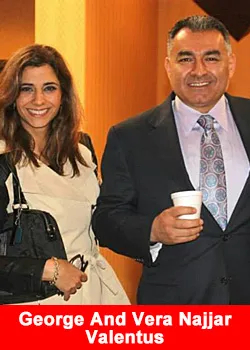 George Najjar is one of those rare people who has been able to realize his dreams by helping other people realize theirs. His driving ambition to show people how to recognize and achieve their full potential, and experience financial freedom, has allowed him to build successful multi-million-dollar companies in numerous categories.
A 25-year track record of successful financial, strategic and operations leadership. Building multi-million-dollar organizations from scratch and as turnarounds.
His most recent enterprise, Boresha International, Inc., generated more than $70 million in sales in five years in the US alone. His story demonstrates the magic that happens when, according to Najjar, you become "others-focused versus self-focused", putting customers and customers-getters first. Engineering a career in high-performance sales, after earning an engineering degree.
Mr. Najjar's mission to encourage, motivate, and teach people around the world to live their dreams and achieve financial independence went into overdrive when he launched Boresha International. The Direct Selling company specialized in consumer wellness products, specifically fair-trade coffees and teas, sold directly through Network Marketing.
Najjar believes that Network Marketing, now known as "Social Entrepreneurship," is a partial solution to global financial and social challenges. Among numerous achievements in the face of challenges and setbacks, George took his company to become one of the top 100 solid Direct Selling Companies in the world.
Mr. Najjar's influence in the space of network marketing reached the White House as he was invited by the Obama Administration in April of 2010 to speak about "Social Entrepreneurship". Mr. Najjar was granted the only standing ovation at the Gala dinner event as one of 12 speakers.
Putting his first MLM experience in "over-drive", Najjar co-founded another Network Marketing Company in 2017 that has generated over half a Billion Dollars in sales in just three years.
Having had close to 10 years of astonishing experience in the industry, Najjar co-founded and built another MLM company in the US that has generated well over $500M in sales in the first three years alone and is still going strong.
Having a "Heart Attitude" for Network Marketing and the burning desire to help people, George recently started the planning process to launch another Network Marketing Company. A friend of his, Joey Boswell, shared Valentus with him.
His initial observations led him to take a safety risk and fly with his lovely wife of 27 years, Vera, to Sioux Falls South Dakota to meet with the owners of Valentus, Dave and Joyce Jordan. The four of them invested some "historic days" together which ultimately led the Najjars to join forces with the Jordans.
As George says,
"Valentus is a 6 year old well established company, with over $200 million in accumulative sales so far, well established in over 80 countries, completely debt free, over funded and well over capitalised, well-structured with independent distributors first in mind, and the company's vision is to do in the next 2 years what they have done in the last 6 years. 

Based on what I have seen, I believe Valentus will achieve that and maybe even double."
After completing their due diligence, George and Vera decided that instead of starting their own company, they have joined forces with Valentus. "After analyzing the situation, it was rather a peaceful and easy decision to join forces with the Valentus family. We are extremely thrilled about the opportunity and look forward to a bright future.
Our immediate goal is to become a driving force to take the company from its current monthly revenues to $50M per month within the next 18 to 24 months.".
About Valentus
In Latin, the word "Valentus" means "prevail," defined as proving to be superior in strength, power, and influence. Recognizing that, we could n0t have picked a more fitting name for a company that strives to be the example in an industry that deserves a leader to follow.
Since day one, our focus, our passion, and our commitment have been to create a company, a product line, and an opportunity built on a foundation of integrity.
From creating significant levels of income, to building strong networks, healthy long-lasting relationships, making new friends, participating in activities you never even knew existed, having the time to do the things you love with the people you love to be with, VALENTUS can help you PREVAIL in ALL of your goals!
For more information please visit www.valentus.com
Recommended Distributors Valentus