VIIVA Names Percy Chin As CEO
October 6, 2020
By Team Business For Home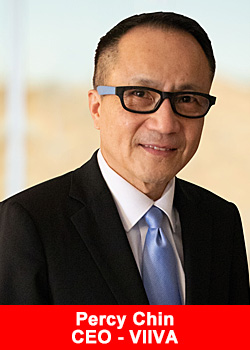 International social selling company, VIIVA, has announced the appointment of Percy Chin as the company's new CEO.
Chin brings more than 40 years of financial and business development expertise with worldwide brands that include Warner Brothers, Coca-Cola, Amway, and Herbalife. The direct selling and consumer products veteran joins a seasoned management team that has expanded the VIIVA brand to more than eight countries in the past year.
"We are honored to have Percy join the Viiva team. We are confident in his ability to lead our company in achieving our vision of global expansion and to positively impact the health of individuals around the world"
said Devin Glazier, Chief Operating Officer.
"His vast experience working for different types of global companies has resulted in a rich knowledge base and a reputation for being a go-to marketing, sales, financial, and strategic business advisor,"
added Joe Zhou, VIIVA's Founder and Chairman.
Chin's international business experience spans large and influential companies in Southeast Asia, the United States, and Canada. He began his career in finance at Deloitte, eventually leading him to become a financial controller for Coca-Cola.
Chin went on to hold senior executive positions, such as CEO, Regional CEO, Vice President, and Country General Manager at major companies, including Heinz, Amway, Revlon, Budweiser, and Herbalife. He was also President of the Greater China Region for Warner Brothers.
Chin has a deep understanding of the direct-to-consumer channel having served as the Global CEO for Tiens Group and helping establish Herbalife and Amway's Greater China Region and India markets as a Global Senior Vice President.
Since its founding in the U.S. in 2019, VIIVA has strategically expanded its global footprint to mainland China, Canada, Mexico, Colombia, Hong Kong, Bolivia, and Taiwan with plans to grow its business in additional countries in the coming months.
"With each market opening, our company's multi-national leadership team has taken a modern, global approach – from providing a globally appealing line of products to investing in a robust technology infrastructure that will support international growth,"
said Craig Johanson, President of Sales and Marketing.
"It's a great honor to be joining the VIIVA team and partner with our brand partners, employees, and leadership in helping people to wake up to a better life,"
said new Global CEO, Percy Chin.
"VIIVA has all the elements that make up a strong, successful international brand.
About VIIVA
Founded in 2019, VIIVA is a social marketing company with products to help you wake up to a better day – starting with its flagship line of nutritious and customized breakfast blends that are backed by science and deliver on a growing consumer need.
The company's products, including its latest innovations NMN Premium and BioDerma Actives, are sold through its independent salesforce who utilize e-commerce, social media enabled platforms so their customers can enjoy VIIVA's high-quality products in a personal, convenient, and accessible way. For more information about VIIVA, go to www.viiva.com.