Vincent Noschese, Platinum Ambassador, Leads Growing Belgium Kuvera Team
October 30, 2020
By Team Business For Home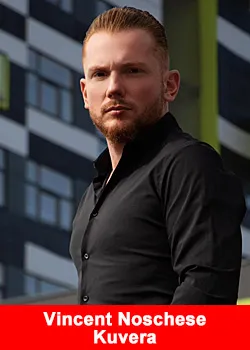 Vincent Noschese is thirty five years old and currently lives in Belgium.
While Vincent was growing up, he realized school wasn't necessarily his strong suit. He came from a middle class family and didn't know too much about the business world, but he knew he wanted to be an entrepreneur.
At the time he had no idea how to get into entrepreneurship, so he continued going to school and got a job, but he wanted more. Vincent never lost sight of his dream of becoming an entrepreneur. After a few years working an unfulfilling job, Vincent was introduced to Network Marketing. He said,
"The industry changed all my dreams. I finally understood my inner voice that was pushing me to do more. So I decided to commit to the industry and after some time I was able to quit my job."
Unfortunately things took a turn for the worse for Vincent. Due to poor financial education, Vincent lost everything. He hated the fact that he had to consider going back to work and finding a new 9am-5pm job. He was at rock bottom, but luck was on his side and he was given a second chance.
Nearly two years ago, after being extremely close to giving up on his dream of entrepreneurship, Vincent attended an event in Paris and was introduced to Kuvera. Vincent said,
"With one last moment of hope I discovered Kuvera through a wonderful event in Paris. The vision of the company touched me directly because of my experience. Joining Kuvera was the best way for me to correct my mistakes and help others avoid doing the same."
Vincent believes that Kuvera offers amazing services that provide people with great financial education and trade alerts. He loves participating in Forex education and alerts, as well as CRYPTOelite, a fully automated and market proven AI crypto trading software, powered by financial technology specialists, EndoTech.
After six short months with Kuvera, Viincent and his team reached the rank of Platinum Ambassador. He believes his success stems from his commitment to the business. Vincent said,
"I burned my ships so I'd have no way back."
After Vincent experienced rock bottom, he used that experience to instill the mindset of never giving up.  When Vincent was asked what advice he had on how to become successful in Network Marketing, he answered by saying,
"Treat your opportunity like a real business. Most importantly, stick with it until you reach your goal. Work always exceeds talent!"
Vincent's next goal with Kuvera is to help bring the company to a legendary level in the industry. He'd personally like to develop entire generations of customers, and help his team reach the highest ranks while inspiring future generations that anything is possible.
About Kuvera
Kuvera, a subsidiary of Investview, delivers financial education, technology and research to individuals through a subscription-based model. Kuvera provides research, education, and investment tools designed to assist the self-directed investor in successfully navigating the financial markets.
These services include research, trade alerts, and live trading rooms that include instruction in equities, options, FOREX, ETFs, binary options, crowdfunding and cryptocurrency sector education.
In addition to trading tools and research, Kuvera also offers full education and software applications to assist the individual in debt reduction, increased savings and budgeting.
Each product subscription includes a core set of trading tools/research along with the personal finance management suite to provide an individual with complete access to the information necessary to cultivate and manage his or her financial situation. For more information, please visit kuveraglobal.com