BE Opens New Head Office In Dubai
November 30, 2020
By Team Business For Home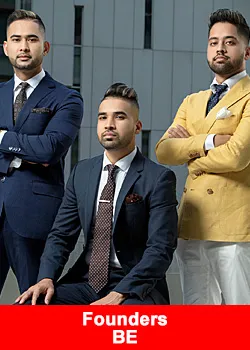 Innovation is the touchstone of BE, and no wonder it is reflected in its office design too. This newly formed office is dedicated to BE's hard-working Brand Promoters all around the world. It is designed by Dubai's top interior design company who built a luxurious, sleek and sophisticated space that is at par with global business standards. The office has been created after the pandemic just ahead of BE's Diamond Retreat.
"We are thrilled to introduce our new head office—a project we put our hearts into for the whole BE Family. As our team grows, marching towards the company's goal to pay out 1 billion in commission on 31st December 2022, we knew we would need a bigger home base.

Here we are, just two months after, in time for our first-ever BE Diamond Retreat. Seeing our Brand Promoters, the company's very foundation, in awe and happy beyond words has been the best reward for us. This office is for all the hardworking, dedicated, and committed BE Brand Promoters worldwide."
Stated BE Founders Monir, Moyn, and Ehsaan Islam,
"Its not just an office, it's the vision of robust work culture."
Getting into a productive flow comes naturally with the right work environment that stirs and motivates and keeps one centered. This luxurious new office of BE in Dubai with spacious lounging areas, mood boards, and stylish furniture stands out as a perfect modern workplace. It's a space that blends the working environment and leisure to promote a healthy and positive working environment.
Enhanced Ergonomics 
Some people want to stand while working, and others wish to scatter out and have lots of room to place piles of things in their workspace. By considering different working styles of people, BE's ergonomically designed office effectively takes care of the functional needs and can hold over 150+ individuals.
The Right Psychology of Colors
BE's workspace has been designed with dominant hues of its brand colors—purple and yellow. Each color has its own special meaning; yellow is associated with optimism, and purple represents dreams and the future. The atmosphere and setting are as cool, vibrant, and inviting, just like the brand itself.
Open Design Plan for Collaboration
Fewer walls are a beautiful sight in this modern office. The floor plan creates more openness across the diverse sections, which encourages collaboration and allows for more accessible exchanges.
Zoom in Style
Sure, we live in the digital age, where we need space for virtual meetings and events. This office also has its very own studio to host zoom calls and virtual events in style.  This game-changer allows both the Corporate and Brand Promoters to host massive online events anytime.
Wall of Fame 
 Gratitude is the attitude of a noble soul. The BE founders Monir, Ehsaan, and Moyn Islam are best at acknowledging their team's efforts and hard work and contribution to its success and growth. There is an exclusive WALL OF FAME in this new office that exhibits its gratitude to the top Brand Promoters—a reminder that no hard work gets unnoticed, never at BE.
CEO's Office
 The golden dragon statue in the CEO Moyn Islam's room holds a significant purpose. It is a powerful perspective that symbolizes wisdom, health, and prosperity—the signs that the right path has been chosen and the course from which BE pledges never to deviate from.   The Dragon is regarded as the most potent symbol of good fate and victory, and it radiates the company's strong values and ethics.
Fun factor
Now for the fun part! Elements such as music and theatre areas, prayer, silent and game rooms, and espresso bars are just a few of the amenities that stand out. These have created a buzzing environment that draws creativity and productivity and fosters a strong personal bond within the Corporate team.   Great workspace nurtures creativity and helps individuals stay inspired and be at the peak of their productivity. BE's high-tech office promises to confer an unforgettable experience for both its Corporate team and Brand Promoters.
About BE
BE is a next-generation ecosystem made up of a unique concept of 'Live & Learn' which includes e-learning and travel platforms with a comprehensive set of tools for independent business owners.
The BE ecosystem uses artificial intelligence technology, to offer a decentralized, transparent, and empowering space for people from all walks of life, regardless of their educational or financial background, to build their very own multimillion-dollar business from their smartphone.
For more information, please visit www.befactor.com
Recommended Distributors BE