Gustavo Salinas Joins ByDzyne and Becomes First Crown
November 4, 2020
By Team Business For Home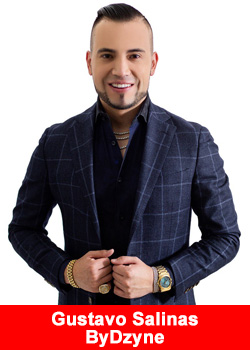 Gustavo Salinas, one of the most important icons  of modern network marketing, joins ByDzyne and breaks the record.
In just 15 days he becomes the first crown rank of the company, which represents over $2 Million of sales revenue in 2 weeks. 
Gustavo exclaims,
"I'm not the best by far. I just have excellent mentors, a much better team than myself and a God who allows me to give my 100% every day. We are happy and grateful to have made this decision to partner with ByDzyne.
What made us fall in love with ByDzyne were 2 things:
The vision of bringing to the market the FIRST network marketing company that covers all areas: certified trading, travel, online marketing, prospecting with artificial intelligence and above all, hybrid e-commerce; becoming the first company that can bring to the client recognized brands of each country that the average customer already uses for their home, but that each distributor can buy or sell it and commission is generated through each transaction.
The corporate team are people with experience and extreme results who live, understand, and feel what a leader experiences. They have created a practically perfect environment for the development of our business, which is why there are several leaders joining this movement like I´ve never seen in my career before. "
"Never have we seen work ethic like we've seen from Gustavo before. He is aggressive and such a beast, but what's more admirable is how coachable he is. Gustavo's hunger to learn & grow, and his coachability is what is going to take him far in ByDzyne and ultimately this industry. We are so excited to have him part of this family,"
states Chad & Nattida Chong, Co-Founders of ByDzyne
"We so excited for him, and to welcome his as the FIRST CROWN of the company. Thank you for breaking records, and showing people what's possible in 15 days,"
says Nat & Chanida Puranaputra, Chairmen & Co-Founders of ByDzyne.
Gustavo "the Latin Rockstar" as many call him has become one of the most marked success references in the entire entrepreneurship industry in the past few years, being recognized in the hall of fame by Go Pro, in Yahoo finance as one of the 20 role models for 2020, and on the Top Earners list for Business For Home, which is why this movement definitely shakes the industry and promises a lot.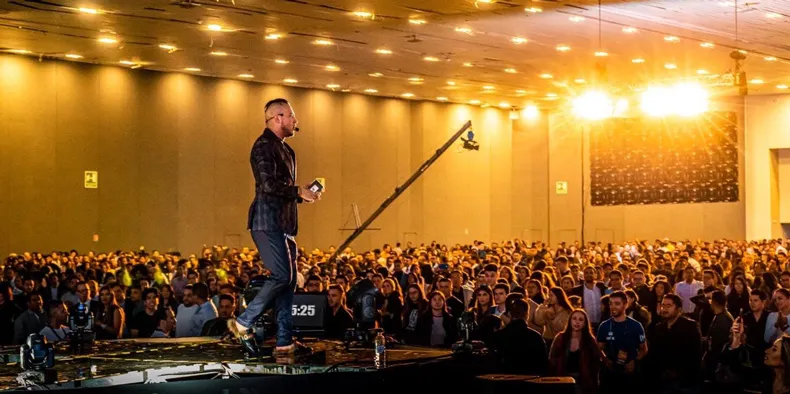 *ByDzyne makes ZERO income claims. It takes hard work and dedication to make a substantial income. For the full income disclosure, please visit www.bydzyne.com
Spanish
Gustavo Salinas uno de los iconos más importantes del network marketing, se une a ByDzyne y ROMPE EL RÉCORD. En 15 DÍAS SE CONVIERTE EN EL PRIMER RANGO DE CORONA DE LA COMPAÑÍA, lo cual representa +$250.000 MENSUALES.
Gustavo dijo "Yo no soy el mejor, simplemente tengo excelentes mentores, un equipo mucho mejor que yo y un Dios que me permite dar mi 100% todos los días", después de haber roto el récord en el cheque más rápido en la historia en llegar a $250.000 MENSUALES y convertirse en el PRIMER CORONA DE TODA LA EMPRESA, Gustavo afirmó "Estamos felices y agradecidos de haber tomado esta decisión, venimos con mucha gratitud y definitivamente LO BUENO ES ENEMIGO DE LO MEJOR, Dios nos dio lo que habíamos estado buscando siempre para nuestra gente, y sería una soberbia no aprovecharlo.
Lo que nos enamoró de ByDzyne fueron 2 cosas:
La visión de traer al mercado la primera red de mercadeo que abarca todas las áreas, trading certificado, turismo, On line marketing, prospección con inteligencia artificial y por sobre todo, e-commerce; convirtiéndose en la primera compañía que podrá poner a disposición del cliente marcas reconocidas de cada país que el cliente promedio de por sí ya consume para su hogar, pero que cada distribuidor pueda comprar o vender y así generar comisión por medio de cada transacción. SIENTO QUE ESTE ES EL "GAME CHANGER" DE ESTA INDUSTRIA, y no aprovecharlo sería ver pasar la oportunidad más grande de la industria frente a nuestros ojos sin tomar acción
El equipo corporativo es gente con experiencia y resultados palpables que viven, entienden y sienten lo que vive un líder, han creado un entorno prácticamente perfecto para el desarrollo de nuestro negocio, razón por la cual hay varios líderes uniéndose a este movimiento como nunca antes lo he visto en mi carrera."
"Nunca antes habíamos visto una ética de trabajo como la hemos visto en Gustavo. Es apasionado y una bestia, pero lo más admirable es lo entrenable que es. El hambre de Gustavo por aprender y crecer, y su capacidad de entrenamiento es lo que lo llevará lejos en ByDzyne y, en última instancia, en esta industria. Estamos muy emocionados de tenerlo como parte de esta familia",
declaran Chad y Nattida Chong, Co-fundadores de ByDzyne.
"Estamos muy emocionados por él y por darle la bienvenida como el PRIMER CROWN de la empresa. ¡Gracias por batir récords y mostrarle a la gente lo que es posible en 15 días! ",
dicen Nat y Chanida Puranaputra, Presidentes y Co-fundadores de ByDzyne.
Gustavo "el Rockstar latino" como varios lo llaman se ha convertido en una de las referencias de éxito más marcadas de toda la industria del emprendimiento en los últimos años, siendo reconocido en el hall of fame por Go Pro, en Yahoo finance cómo uno de los 20 modelos a seguir este año y en nuestra revista siendo el Top 154 del mundo hasta el día hoy, por lo cual definitivamente este movimiento sacude la industria y promete mucho.
* BYDZYNE OFRECE CERO GARANTÍAS DE INGRESOS, SE NECESITA TRABAJO DUROY DEDICACIÓN PARA GENERAR INGRESOS SUSTANCIALES. TODOS LOS RESULTADOS PUEDEN VARIAR. PARA OBTENER LA DIVULGACIÓN COMPLETA DE INGRESOS, VISITE WWW.BYDZYNE.COM
About ByDzyne
ByDzyne's multi-faceted approach disrupts the traditional industry model by first understanding that one size DOES NOT fit all. You were born into a particular culture, with unique tastes, interests, and desires. Therefore, ByDzyne™ was created with a purpose to celebrate your uniqueness and empower your extraordinary potential. The company's exceptional "culture-crafted" products meet distinct needs in key consumer markets, and their lucrative business opportunity was formulated to fuel your ideal lifestyle, as YOU see fit.
This customizable approach is a driving force that propels everything ByDzyne does and will do in the future. They proved this by already establishing 4 distinct verticals: Technology, Training, Travel and Transform. And 8 industries are represented in these diverse categories of products and services: Forex, Online Marketing, Internet of Things (iOT), Lifestyle, CBD, Skincare, Weight Management, and Wellness. At ByDzyne's core, they believe that this "Power of Choice" offers not just opportunity, but security.
Ultimately, the perfect home-based business would have a catalog full of ever-evolving products and services, that would be relevant to all people, available in all markets, and at a price point that everybody can afford.
ByDzyne's mission is to be the most influential economic and cultural force in the industry. Thus, the goal is to continue to expand their global footprint into multiple verticals to maximize your income opportunities, capitalize on trends, and gain market share in upcoming industries as they advance. Their experienced executive team strives to stand apart from the pack, and build a legacy you can be proud of; one you can truly call home. We are ByDzyne™. Where limitations don't exist. For more information please visit www.bydzyne.com.