Jennifer Alice Murray Achieves Elite Pro7 Rank At LifeVantage
November 23, 2020
By Team Business For Home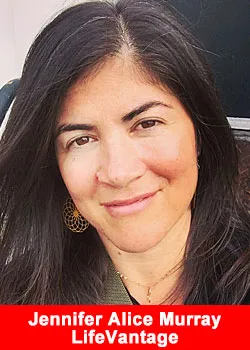 Never in a million years did Jennifer Alice think she would be successful in network marketing, let alone pursue it.
But despite never dreaming of the possibility, she has found success. LifeVantage proudly welcomes her to the company rank of Elite Pro 7.
Jennifer Alice Murray began her career in the arts, studying Patternmaking Technology at the Fashion Institute of Technology, and then pursuing a degree in Comparative Literature in Italian, French, Irish, and English. Besides her love for the arts and languages, Jennifer Alice nurtured a passion for business and entrepreneurship.
She owned a hemp and organic fiber clothing company in San Francisco before moving to Kauai where she invested in and co-managed her sister's vegan restaurant, the Blossoming Lotus. They closed the doors in 2009, and she went on to publish three vegan cookbooks before falling in love with network marketing in 2013. Jennifer Alice was introduced to LifeVantage through a dear friend, who believed the products would be the perfect addition to her already healthy, active lifestyle.
"I was incredibly skeptical and tried to ignore her for a couple of months. I considered myself extremely healthy, and I had always looked at supplements as a waste of money.

I thought the best we could do was to eat well, exercise, get plenty of sunlight, and keep our stress level down. Finally, I decided to give the product a whirl, mostly just to be supportive of my friend in her new business, while inwardly convinced it wouldn't work for me.
Well, three cheers for supporting friends' business, because a few short weeks into trying the product I felt better than I had in years with an increase in my energy level. My entrepreneur radar was going off at that point. A simple, gentle, herbal product that could help people have more energy was a no-brainer for me. I joined the company as a distributor and started building right away."*
Her journey has been one of growth not only in business, but personally as well. Jennifer Alice has turned her car into a classroom, listening to audiobooks and learning about leadership.
"I have had so much to learn. When you have no employees, the mindset is so different. I had to learn about leadership, and how to build a team. I had never even been on a team in my life. And suddenly, I was building one!"
She is also fascinated by her process of becoming self-aware.
"It's not easy to identify our faults—our bad habits, the ways we need to change—and then actually do the changing. It can be exhausting, and it can feel too self-centered, which makes it easier to justify not facing up to it at all. But when we commit to that work—the self work—in action, not just in theory, that's when mountains start to move. That's when the pieces start falling into place and things get FUN!"
Jennifer Alice is especially grateful for the impact her work with LifeVantage has had on all of those near and dear to her. She has grown both as a person and financially beyond what she had ever thought possible.†
"I now know I can accomplish anything, so watch out world because I've got a lot of visions yet to manifest!"
Jennifer Alice resides in Kapa'a, Hawaii, with her adorable dog, Mufasa, and wonderful partner, Ken.
About LifeVantage
LifeVantage Corporation (Nasdaq: LFVN) is a pioneer in Nutrigenomics – a new science dedicated to biohacking the human aging code. The Company engages in the identification, research, development, and distribution of advanced nutrigenomic dietary supplements and skin and hair care products, including its scientifically-validated Protandim® product line, Omega+ and ProBio dietary supplements, its TrueScience® line of Nrf2-infused skin and hair care products, Petandim® for Dogs, Axio® energy drink mixes, and the PhysIQ™ weight management system.
LifeVantage was founded in 2003 and is headquartered in Salt Lake City, Utah. For more information, visit www.lifevantage.com.
*This statement has not been evaluated by the Food and Drug Administration. This product is not intended to diagnose, treat, cure, or prevent any disease.
†Distributor success depends on individual diligence, work effort, and market conditions. LifeVantage does not guarantee any income or rank success. For the company's Average Annual Earnings Disclosure by rank, visit lifevantage.com.
Recommended Distributors LifeVantage