Millennial Leader Randi Schmitt Partners With Velovita
November 24, 2020
By Team Business For Home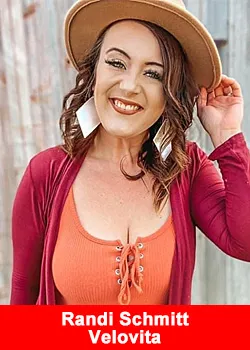 At the young age of 27, Randi Schmitt is considered one of the "lucky ones" as she has found her passion early in her career.  This passion has stemmed from not only providing for her own family, but also wanting to assist moms to find success and fulfillment; the same success and fulfillment she has finally found after several attempts at network marketing.
At only the age of 21, Schmitt was a new mom working to barely make ends meet as a nursing assistant.  Wanting more out of life, she turned to network marketing hoping that it could provide the solution for herself and her family. After several years and a few different companies, she finally started to see the success she envisioned…what she calls "life-changing success,"
having built a team of thousands, doing millions of dollars in sales, and has risen to be one of the top leaders in her company.
When Schmitt was no longer seeing her team progress and succeed is when she began to look for other vehicles to help support her husband and now two children, as well as, further her desire to help and inspire other moms to do the same. "My life changed quickly," Schmitt stated "and I want to pour myself into others and help them find that kind of success too."
"I was very impressed when I found velovita for multiple reasons. From a business standpoint, I was very impressed on how this company is operating while still being in soft launch. When I found out that they are debt free, own everything and do all operations in house I was truly floored.
The unique product line also got my attention; bio-hacking nootopics in 3 different flavors! it's simple, it works & you feel amazing!
Timing is everything! I have no doubts this company is going to massively grow in the next year and being on the front wave of that is truly a life changing opportunity for myself and those that choose to join me on this journey.
With velovita's unique product line that will continue to grow, a compensation plan that
truly is for everyone and a corporate team that has their ears open to the field, I know we can positively impact so many people and that fuels my fire! I'm so happy this company fell into my lap."
"We have a passion for helping people and we are proud to have such amazing role-models as Randi and the team she is putting together to spread our message of hope and self empowerment! We are honored that Randi chose to join us." 
Stated Kosta Gara, CEO. 
About VELOVITA
Founded on 90+ years of operational and field success, VELOVITA is set to become a global leader of innovation in the field of biohacking, social selling, community expansion and support for the new world entrepreneur. Their mission is to provide an ecosystem of inspiration, education, and life enrichment. Velovita has a singular focus on the individual to increase their daily performance both mentally and physically.
For more information on VELOVITA, please visit Velovita.com or Velovita's Facebook page. You may also contact us at [email protected] To join the new movement, click here for the Velovita Member Rewards. We know you'll #LOVIT!
Recommended Distributors Velovita