MLM Leader Noel Fruto From The Philippines Joins QuiAri
November 11, 2020
By Team Business For Home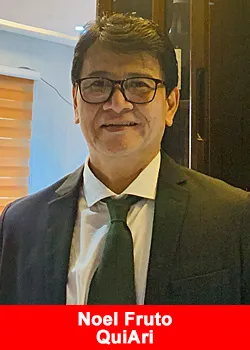 Noel Fruto, from Manila, Philippines, is having the best year of his life. He recently retired from his successful career in the financial industry to devote more time to his QuiAri business.
"I have a love of learning and no fear of failure. I'm really excited about the next chapter of my life with QuiAri. My true love is the MLM industry and being an entrepreneur.

I was a top earner in my last network marketing company and eventually joined corporate as their Senior Sales and Marketing Manager. I think I have a real opportunity with QuiAri to reach the rank of 500K because the QuiAri opportunity is so unique and the products are amazing,"
stated  Noel Fruto.
Before joining the QuiAri team, Noel started out as a QuiAri customer. He was given a sample of QuiAri Shake and Energy, loved the taste and the way it made him feel. What impressed him most was the health benefits that went beyond weight loss.
"Maqui is the future of the health and wellness industry. Our Founder and CEO, Bob Reina, has set a new standard by introducing this healthy berry to the global market first.

I lost over 35 pounds in my first three months on the products, but the real surprise was how good I felt. I was eating less, and I expected to have less energy, but it was the opposite. I actually exercised more and replaced the fat I lost with muscle,"
The Maqui berry is the world's new #1 superfruit, and the star ingredient of QuiAri products. No other superfruit, not even acai, noni, or mangosteen have antioxidant power as high as Maqui and the health benefits are unlike anything scientists have ever seen. Founder and CEO, Bob Reina collaborated with Dr. Juan Hancke, the #1 Maqui scientist in the world to unlock even more benefits of the berry by developing an exclusive extract called MaquiX® that boosts the antioxidant power 10 times.
"The secrets of the Maqui berry have been known by the Mapuche Indians of the Patagonian region of Chile for centuries. It is one of the harshest environments on Earth, which is why the Maqui berry is so resilient to harmful free radicals. While most superfruits protect you against only 1 free radical, Maqui protects against all 6 of them.

Our products combine MaquiX® with a proprietary blend of vitamins, minerals, and greens that nourishes your body and helps you look and feel your best. We are currently in over 200 countries and counting and have offices established throughout Africa, the Philippines, Mexico, and the United States,"
stated QuiAri Founder and CEO, Bob Reina
QuiAri Promoters, like Noel Fruto, are enjoying success by following Bob's duplicatable system that follows a simple approach: Try. Love. Share samples.
"As a Promoter, I have access to single-serve QuiAri Shake and Energy samples. I simply pass out samples to anybody that wants to look and feel better. If they love them, which they always do, they can share them with everyone they know for an opportunity to earn in 5 minutes," said Noel Fruto.
QuiAri has one of the best compensation plans in the industry and the only in health and wellness offering "Instant Pay." That's commissions paid within 5 minutes after each sale, anywhere in the world. Promoters have raved about QuiAri's revolutionary compensation plan, which includes other industry-firsts, one of the highest paying compensation plans in the industry, and a world-class leadership team with over 150 years of MLM experience.
"Bob wants to help all Promoters achieve their dream lifestyle and he's provided a realistic path to get there. I think that's why so many leaders are joining the QuiAri team. Training is simple, share samples,"
said Noel Fruto.
In its first year of business, QuiAri holds the record for #1 fastest growing global home-based business in the world. Noel predicts even more rapid growth in the future.
"I was with a multi-billion-dollar company in my previous opportunity – the largest MLM in all of Malaysia. QuiAri has the right leaders, the right compensation plan, and the right marketing team in place to take us to the top of the entire industry. I can tell you that my team will be the first to celebrate with Bob when we cross the multi-billion-dollar mark," 
About QuiAri
QuiAri is the #1 health and weight loss movement in the world today. Featuring exclusive, breakthrough products (QuiAri Shake and QuiAri Energy) featuring the world's new #1 superfruit, the Maqui berry, people everywhere are losing weight, boosting their energy levels, and improving their health.
What started as an idea has now become a worldwide phenomenon, gaining a passionate following in over 200 countries. But that's not all! We boast an exciting opportunity to promote QuiAri products and earn commissions within 5 minutes after each sale through industry-first, state-of-the-art payment technology.
Combining unrivaled products with the fastest payout, the fastest cycling binary, and one of the highest paying compensation plans in the industry, there's no doubt QuiAri is helping people live healthier, happier lives. To learn more about QuiAri, their products and the opportunity to become a Promoter, visit quiari.com/en, or follow them on social media @QuiAriOfficial.
These statements have not been evaluated by the Food and Drug Administration. These products are not intended to diagnose, treat, cure or prevent any disease.
Income Disclosure Statement
Please note the QuiAri business opportunity offers unlimited income potential. However, QuiAri makes no guarantee of financial success. Success with QuiAri results only from successful sales efforts, which require hard work, diligence, skill, persistence.
Recommended Distributors QuiAri