MLM Leader Wes Melcher Joins IM Mastery Academy
November 24, 2020
By Team Business For Home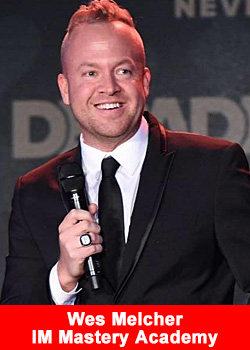 Wes Melcher has trained over 1 Million People in a career spanning back to 1997. He has broken records, set records, and helped develop products and programs throughout the Direct Sales and Network Marketing Industries.
A living example of "multiple streams of income" Wes has investments and ownership in Real Estate, Travel, and Horse Racing. His understanding of different types of businesses have led people to nickname him "a scientist of the MLM Industry." His book "NetEasy Marketing" was #1 on Amazon in multiple categories and has been featured on several "Must Read MLM Books" lists.
Over the last two years Wes has used his 20 years of experience in the travel industry to create a substantial portfolio of AIRBNB Properties under management, but he has kept his pulse on the industry as he has evaluated dozens of companies trying to find a company that he believes will be the "NEXT LEGACY COMPANY." After over 15 years with one company and amassing a team of over 350,000 customers Wes is not the type of person to follow a fad. After months of due diligence and investigation he has decided to join IM Mastery Academy.
"What really did it for me was that I saw people from all walks of life and demographics WINNING! Even though IM Mastery Academy has several top earners in all of Network Marketing that is not what really stood out.
For once I finally found a company that has people hitting all the ranks throughout the compensation plan, and not just a few people hitting top ranks. The rank recognition from their digital convention this month could have literally lasted for days if they had let people just say their names and brief story. Chris Terry is a genius and the comp plan is easier to understand and more aggressive than any other legitimate opportunity I have seen."
Wes feels like there is no better company to capitalize on the growing trend of people wanting to learn new skills while at home in this new digital economy. Two of the fastest growing areas in Silicon Valley are FinTech and Online Education. IM Mastery Academy's product is online financial education and capitalizes on both of those trends while bringing tremendous value to people around the world in a digital format that they can access anywhere.
"It is really an honor and a blessing to be teaming up with IM Mastery Academy. I have been able to learn so much from co-founding a billion-dollar company previously & excited that Chris Terry is willing to invest in his people and his company to make it the best opportunity with World Class products.
Unfortunately, it seems like today that some company owners and executives are focused on their bottom line and not what's best for customers and distributors. I am proud to have made the decision to join this company after much investigation and due diligence, and I would never join a program or another business if I didn't go through this process and make the decision for myself."
About IM Mastery Academy
IM mastery academy™ is an online educational platform teaching simple unique strategies through live classrooms that can make it easier to understand the forex, digital currency, high frequency & e-commerce markets. Members gain mastery over these markets that empowers them to be more self sufficient allowing the pursuit of a passionate, fulfilling and purpose driven life. For more information please visit  im.academy
Recommended Distributors IM Mastery Academy